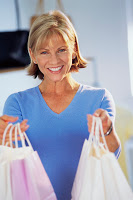 The Christmas Shopping Season continues. But, how overwhelming it can be! To be honest, I'm thankful that our budget is tight these days. In a way, it lets me off the hook from too much gift giving, gift making, and general running around like a chicken with my head cut off.
I can tend to go overboard, so outside restraint is a good thing.
For my shopping for the holidays, I've been perusing Ebates' list of stores and planning my attack. FishPapa and I had our money meeting last Monday and came up with an amount to spend on the kids and other Christmas shopping. Right now it seems like a lot, but I know it will go quickly.
Since every dollar has a name, I'm subtracting every Christmas related purchase from our total. For instance, we bought a live Christmas tree for a good deal, $17.97 at Lowes. They were priced higher, but there must have been a sale that day, for they took two bucks off at the register. That is counting toward our Christmas expenses.
My stocking stuffers are mostly coming out of the grocery budget, but the other gifts I hope to order online by the beginning of next week. I'm making a list of things I'd like to buy and then going to run it past my hubby. We can go shopping together – from home!
Here are some deals that I've found that you might want to take advantage of:
— When you purchase $25 from Amazon's Music CD, Audio/Video, Camera, Photo and Video, Office Products, PC or Wireless stores in a single order, you will receive a $5 credit for Amazon MP3. Go here to see their wide selection of music downloads. Most MP3 albums are under $9 and every Friday they feature albums for an even 5 bucks. Great little bonus if you're already Christmas shopping in those Amazon departments.
— I have loved the Current catalog for a long time. They are a great source of inexpensive gifts, wrappings, and crafts. Right now, you can get FREE Shipping
on any $45 order from CurrentCatalog.com. Offer expires December 15, 2008. Think creatively. You could purchase small things like recipe cards and make them "more" with a homemade loaf of quick bread.
— KBtoys.com sells thousands of popular toys and video games, entire departments dedicated to learning toys and baby items and a unique selection of hard-to-find specialty toys. Shop by age or browse by category, character or brand to find the perfect gift. Right now they have several specials going, including 80% off Select Items!