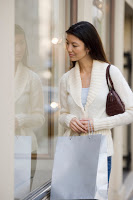 Attention Fellow CPOs!* There are only 47 days until Christmas! Wow! Time is flying. Don't get stuck in the malls on Christmas Eve — unless that is something you really enjoy. Instead, think through your shopping trips this week and see what holiday treats you can pick up on your regular outings.
* For instance, gearing up for Thanksgiving, the grocery stores are starting to offer great deals on baking and feasting ingredients, like flour, sugar, turkeys, broth, etc. Buy a few "loss leaders" each week so that when it comes time to prepare a big dinner, you won't choke on the turkey leg when you hear the price.
* Today in our local health food store, I saw a woman buying a lot of reusable shoppping bags. They were spacious and brightly colored and only cost $.99. She had brought one in to use for her purchases. But, she had customized it by sewing holiday fabric over the store logo. She explained that she is using these reusable bags to package her Christmas gifts in. Great idea! And a great price, too. If she had bought paper gift bags, she would have paid a lot more than a buck.
* As you pick up good deals on groceries, think about what could double as a stocking stuffer or a filler for a gift basket. Last night I bought fruit snacks which I rarely do, but am going to use them in the kids' stockings. Same goes for all the gum I bought last week.
Put your thinking cap on while you're out and about and see how you can "stockpile" for the approaching holidays. If you're heading to Walgreens or CVS in the near future, here's what I see on your horizon:
CVS
–Buy $20 of Hershey's candy, get $10 back – great for putting in Christmas gifts for teachers, co-workers, family, friends.
–Put together a toiletries kit for the starving college student in your life. Pick up Fructis hair products (.99 after ECBs), St Ives Body wash (.99 after ECBs), and Colgate toothpaste (BOGO).
Walgreens
–Some good prices on canned foods: Progresso soup, canned pumpkin, Kelloggs cereals, and Betty crocker frosting. Go to the pumpkin-colored coupons.com ad in my sidebar to get some great coupons for these items.
See any good deals? Let us know!
* Chief Procurement Officers