MOM Deals This Week
We are a participant in the Amazon Services LLC Associates Program, an affiliate advertising program designed to provide a means for us to earn fees by linking to Amazon.com and affiliated sites. We participate in other affiliate programs as well. For more details, please see our disclosure policy.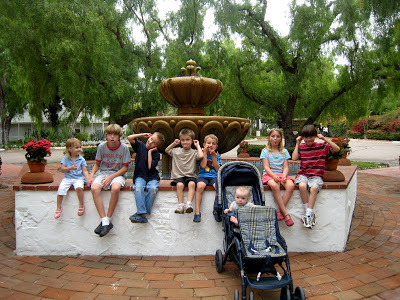 The best deal I scored this week was having my friend Jessika and her kids come visit us. We practically didn't see our children all weekend long because they were off entertaining themselves, leaving us to chat about all things under the sun. On Friday we took a field trip to the Mission San Diego de Alcala, the first of the California Missions. A $12 tax deductible donation got us all in the door and sent us back in time. While the missions aren't the most stimulating of venues, they are quite peaceful and definitely educational experiences.
Other good deals of the week included my recent purchase at CVS where I scored a ton of stuff for less than five bucks. I'm looking forward to next week's sales and stocking up on Rice Krispies and Aveeno.
Are you looking for a good deal?
There are lots of ways to save money, despite the crummy economy. Here are a few:
** Jessika told me that she recently purchased several Lego kits on clearance on Lego.com.
She found great little sets for less than a buck, perfect size — and price for filling bday gift bags — or Christmas stockings, if you're planning ahead. The selection changes often, so check every once in awhile. I found foam shields last night for five bucks. Since we go through weaponry pretty quickly around here, it was a great deal to order a few for Christmas.
** Start browsing the links posted at Frugal Friday. My readers share some great ideas. Some highlights? My sister shared how she makes iced coffee at home. Melissa at Saving Cents with Sense posted how to make a homemade body scrub while Jill at Money Savin' Diva linked to her tips for decorating on a budget. You're invited every Friday to share your tips on stretching a buck. I hope you'll join us next week where I'll divulge the next chapter in the continuing saga of how we got out of debt.
** Clip some coupons. Check out the offerings at Coupons.com to see what would help offset your grocery budget. There are high dollar printable coupons for Huggies, CPK frozen pizzas, Raisinets, TLC, and Mann's Fresh Cut Produce. Also, consider buying Sunday's paper. Tomorrow's inserts include some great coupons for Barilla pasta as well as Ritz crackers.
** Now through the end of the month, CurrentCatalog.com
is offering 15% off every order. Their stuff is usually pretty economical, so this deal will make it even more so.
** Buy an Entertainment book. While you're thinking coupons, think about investing in the 2010 Entertainment book. These really pay off if you like to eat out or take your family to see the sights in your city. Usually these books also have coupons for grocery stores. You know you'll use those.
Know of another great deal? Share it with us!