THIS GIVEAWAY IS NOW CLOSED. CONGRATS TO THE WINNER: piskulas@
Today's my Momiversary! My first baby turns fifteen today. And in honor of him and the last decade and a half of refining fire motherhood, I'm hosting a bunch of giveaways on both Life as MOM and Good Cheap Eats. So, stay tuned and be sure to enter them all for your chance to win.

#1 Daphne's California Greek on LifeasMOM and on Good Cheap Eats
#2 Rumiano Cheese Company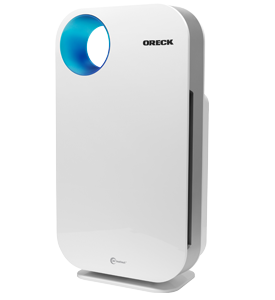 You know how I hate to read directions? It drives my husband crazy. But, it works for me. I'm fairly intuitive when it comes to making things work, so I don't typically read the manuals.
But, I do save them. I have twenty years' worth of owners manuals carefully filed away.
You know for the day that I finally learn to read directions.
When Oreck sent us an AirInstinct Air Purifier to review, I didn't even bat an eye. Now that I have teens and tweens, I hunted down one of my minions to read the directions for me. He did a great job and set the air purifier up. He educated me on its different functions and we were set to go. We've run it for the last two or three weeks to see how it cleaned our air.
No code red?
I had read Katie's review awhile back — she is always so thorough — so I was waiting for the machine's light to change all different kinds of colors when we had different allergens or dust blowing through the house. Quite honestly, I was a little disappointed when we didn't get a code red.
And I must confess, I kind of gloated, thinking that perhaps our house wasn't as dusty. (Pride comes before the fall….)
The true test came when I opened the machine up to check the filter. The first two layers looked brand new! And the HEPA filter?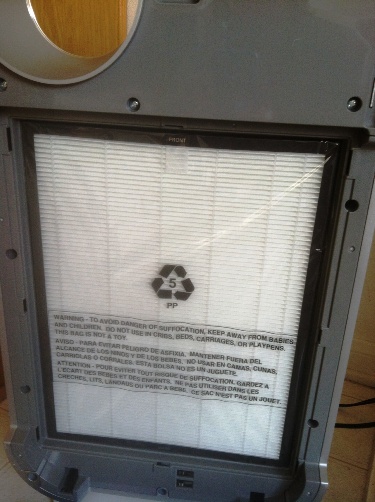 Still in the plastic wrappings! We got a good chuckle out of this before unwrapping the filter and getting it going again.
Let this be a lesson to you!
Thankfully, we didn't blow out the motor. I anticipate a few code reds in the coming weeks now that we've properly installed the filter. Minion and I just shook our heads when we felt a blast of cool air come out of the top of the machine.
Oh, that's what it's supposed to do.
It's powerful and efficient. The most powerful air purifier Oreck has ever offered, and it is ENERGY STAR® qualified.
It's smart. It actually monitors the dust, pollen and smoke in the air passing through the sensor with its APS™ (Automatic Particulate Sensor) technology. Based on what the APS detects, it turns the air purifier from low to medium to high (automatically, so you don't wonder what setting to use), and pulls more air in through its fan.* The four-color lighting system tells you that it's working, pushing cleaner air back into the room.
It cleans. Its three-stage PATH system reduces odors and captures 99.97% of the particles (as small as .3 microns) from the air that pass through its filters.
It's whisper quiet on low setting or can provide white noise, depending on the setting.
It's built to last. Oreck backs the AirInstinct 200 with an amazing 5-year limited warranty.**

Information provided by Oreck. See the Oreck website for more details.
Our family's allergies are something fierce this spring, so I'm looking forward to monitoring their improvement now that we're using the machine properly.
Win an Oreck AirInstinct Air Purifier
This week one Life as MOM reader will win an Oreck AirInstinct Air Purifier, courtesy of Oreck.
To enter:
Simply complete the information on this form. Please know that the information is only being gathered for the purposes of mailing you your prize in the event that you are chosen as the winner. This information will not be sold, traded, or given away.
This promotion is open until Sunday, June 17, at 8 pm PST and is limited to US residents, 18 years or older. Friends and family of Jessica Fisher and Life as MOM are ineligible for entry. The winner will be chosen randomly. This post will be updated with the beginning of the winner's email address. The prize for this promotion is provided by and shipped by Oreck and/or its representatives. Jessica Fisher and Life as MOM will not be held responsible for unclaimed or undelivered prizes. Oreck is not responsible for the administration of the promotion or winner selection.
Disclosure: I received an AirInstinct air purifier for review purposes. All opinions are my own.