MOMMY Cards Can Help You Connect
We are a participant in the Amazon Services LLC Associates Program, an affiliate advertising program designed to provide a means for us to earn fees by linking to Amazon.com and affiliated sites. We participate in other affiliate programs as well. For more details, please see our disclosure policy.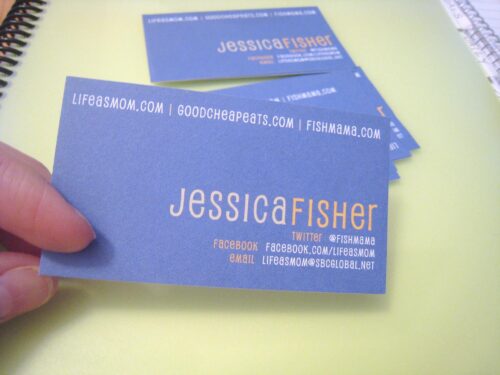 On my very last plane ride two weeks ago I met a mom with whom I really hit it off. With four grown children of her own and a ministry of speaking to young moms, Cathy is a woman I want to know. I felt that God had arranged the seat assignments on Southwest. I was so glad to be able to hand her my card in the hopes that we might meet again and even gladder (more glad?) when we met for dinner this past week. We're already talking of when to get together again.
When you meet another mom whom you want to know better, having a quick way to exchange information is essential. And "mommy cards" can help you connect!
Mommy Cards are business cards for busy moms. Are you a busy mom who's always on the go? Check out Vistaprint's mommy contact cards. They're the hippest, easiest way to share your contact info! Give to coaches, teachers, other parents, and babysitters. Put your contact, emergency, child's allergy and other info. Add a photo for a personal touch. Select from a variety of layouts and design options.
I've ordered cards from Vista Print on three different occasions and I've always had a great experience. They are an inexpensive way to quickly exchange your contact info and hopefully get on the road to a beautiful friendship. Right now you can get 100 Mommy cards for just $1.99.