Start the year off right with a round-up of protein-packed meal plans. Not only can you focus on eating at home, you can also save money!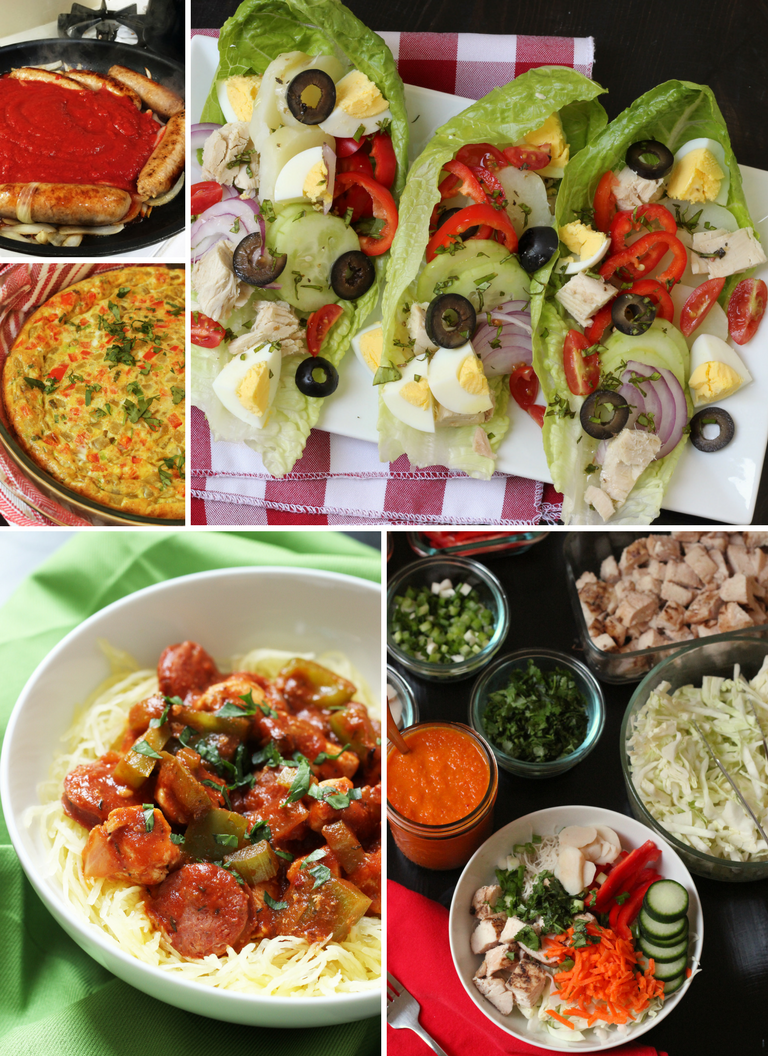 Usually around this time of year I'm ready to shift gears from my December habits. It's not that I didn't enjoy those extra baked goods or that it wasn't fun celebrating with some rather decadent dinners. It absolutely was!
And truth be told, I'd do it again!
All the same, with the turn of the calendar page, I'm ready to get some good habits going. It's as if the advent of January 1st practically beckons me to try something new. For me this year, it's getting back to a regular exercise schedule and to tone down my carbs.
Side note: I don't think carbs are bad, but sometimes….? Well, sometimes I can make a meal out of carbs with nary a vegetable in sight. The coming of January makes me want to realign my habits and get to feeling healthier. How about you?
Want to eat more healthfully?

Looking to trim back on the carbs?

Think you'd like to enjoy lighter meals?

Eager to trim the budget by eating at home more often?
Want to eliminate some ingredients to see if you'll feel better?
There are lots of reasons why we might want to change up the way we eat: to lose weight, avoid allergens, or just break some bad habits.
An organized meal plan can help you do that. It sure helps me! Having a meal plan at the ready enables me to do several things:
avoid pricey (and often unhealthy) take-out
grocery shop quickly and easily
thaw frozen ingredients in a timely manner
prep ingredients in the morning or the day before when I have more time than right at dinner time
enlist family members to help with meal prep
save money because I am buying ingredients on purpose, not on impulse
stick to the healthy eating goals we've set for our family.
Meal planning is not rocket science, but it is an important strategy to saving money as well as to keeping a healthy diet. The siren song of takeout is sometimes irresistible, is it not? A meal plan can help you avoid the drive-through and enjoy healthy, home-cooked meals instead.
While we may not agree on everything when it comes to nutrition – I don't like how chia seeds feel in my teeth — we can find common ground in a diet loaded with fresh produce and packed with protein.
Enjoy a Month of Protein-Packed Meal Plans for a Happier New Year!
A Month of Protein-Packed Meal Plans is just that! This is January's meal plan from my estore.
Featuring hearty meats, chicken, and seafood as well as abundant fruits and vegetables, this meal plan is perfect for those who might be looking to avoid dairy and gluten, are testing the paleo waters, or even doing a Whole 30. It's also ideal for those of us who need to step away from the pasta, pizza, and quesadillas, if just for a little while.
Not only that, these meal plans are ideal for the household with mixed diets due to allergies or food preferences. You don't have to make two meals after all! Start with the base meal and add back in a bread basket or a sprinkling of cheese for those who would like it.
In this Month of Protein-Packed Meal Plans, you'll receive the following:
4 weeks of menus that are easy enough for weeknights and plenty healthy

4 weekly grocery lists

a monthly grocery list to help you make good use of sales

suggestions for homemade condiments and sauces

recipe ideas for serving fruit-based, naturally sweetened desserts

prep tips to make it all come together easily

printable calendars and grocery lists to get organized in the blink of an eye
Let us do the work for you! A Month of Protein-Packed Meal Plans provides everything you need to prepare gluten-free and dairy-free dinners all month long.