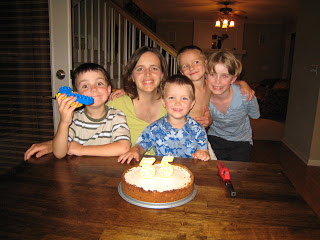 We're having a lull here at the Fisher Household. I haven't baked a cake in over a month!
The winter birthday season is over and our next round of birthdays – 4 in 3 weeks' time – doesn't begin until May. (Thank goodness, I'm not ready for it.) So, my cake decorating skills are dormant. However, it's still fun to be inspired by other ideas out there:
** Meredith took a bakery cake and duded it up with Legos. Love her creativity! If you've got Lego maniacs at your house, you'll enjoy her clever ideas for hosting a Lego party.
** Though she should be resting (hint, hint), The Happy Housewife has been baking up a storm. I enjoyed seeing her rendition of my Star Wars cake design here. Loved her Doll cake video tutorial and the paper trick to smooth frosting. I'll be trying that out the next time the Birthday Express cruises by.
** Simple Cake Decorating has a great site full of clever birthday cake ideas.
** Check out the potato candies that Celeste made. Oh my! They would look amazing on a spring, garden, or Peter Rabbit cake. Or, for you tv addicts (you know who you are), we'll put them on a couch-shaped cake. Heehee! Very cool!
** The Pioneer Woman hosted a big cake-ish party and her guests learned to make Cake Pops. How fun!