More Clutter-Free Stocking Stuffers
As an Amazon Associate I earn from qualifying purchases. For more details, please see our disclosure policy.
Consider stocking stuffers that are used up or gobbled down instead of making a mess. This giveaway from Funky Monkey is now closed. Congrats to the winners: [email protected], [email protected], [email protected]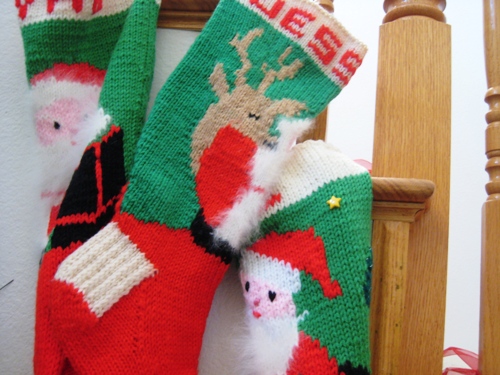 A few years ago I finally wisened up and stopped putting twaddle in the Christmas stockings.
One July as I was scraping up bits of a game from the closet floor, a game that had never been played, one that I had bought a child for Christmas, I decided that it had been a waste of money. And a waste of my time now that I was putting said game in the trash can since half the pieces were lost.
I already was in the practice of putting consumable items, like breakfast, in the stockings, I just took it a few steps further by making everything useful and consumable.
If you'd like to join me, consider this list of edible and consumable stocking stuffers:
Edible Items
small boxes of cereal
granola bars or snack bars
fruit leathers
small packages of dried fruit such as raisins or cranberries or Funky Monkey snacks
juice or milk boxes
clementines, apples, or oranges
candy canes and Christmas candy
small bottles of apple cider
individually packaged crackers or cookies
popcorn (try popping corn on the cob)
movie theatre candies
pretzels
rice cakes
chips
jerky
gum
favorite teas and coffees
coupons for restaurants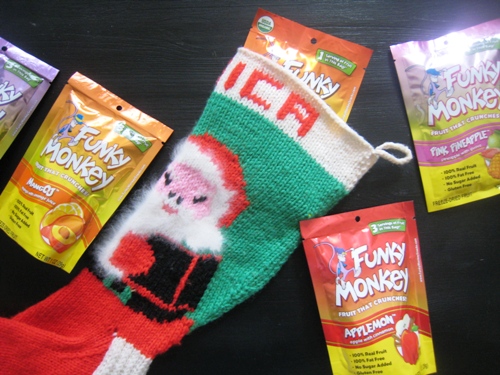 Consumable
band-aids
hair products
silly string (yes, it will be gone in seconds)
pony tail holders (at my house, these are totally consumable. They disappear constantly.)
hand soap
shower gel
scented hand sanitizer
gift cards

Try Funky Monkey Snacks.
This year my kids will be getting a variety of the above, including a bag of Funky Monkey snacks.
We were first introduced to these freeze-dried fruit snacks during the Brick or Treat at Legoland. The folks at Legoland did a fabulous job in working with sponsors who were organic or GMO-free. I loved that about the bag of loot the boys brought home.
Funky Monkey was among that loot. My boys loved it! I bet yours will, too.
There are seven different flavor combinations: Applemon, Bananamon, Carnaval Mix, JiveALime, MangOJ, Pink Pineapple, and Purple Funk.
You know I cook a lot of things from scratch and typically avoid processed foods when I can. But, I want convenience just like anybody else. I am always thrilled when I find a product that sources quality ingredients. I went digging around on their website and this is what I have found out about Funky Monkey:
Aside from organic cinnamon (in Applemon and Bananamon), there is nothing added to Funky Monkey Snacks, no added sugar, no artificial colors, flavors or preservatives.
Funky Monkey uses full slices and pieces of real fruits, not the small dices found in other freeze-dried fruit products.
Each ounce of Funky Monkey contains three servings of fruit.
Funky Monkey Snacks are free of the top 8 allergens, including gluten and peanut/tree nut.
Funky Monkey Snacks are independently verified by the Non-GMO Project.
Win some Funky Monkey Snacks.
This weekend, three Life as MOM readers will win a variety of Funky Monkey snacks.
To Enter:
Simply complete the information on this form. Please know that the information is only being gathered for the purposes of mailing you your prize in the event that you are chosen as the winner. This information will not be sold, traded, or given away.
This promotion is open until Tuesday, December 25, 2012, at 8 pm PST and is limited to US residents, 18 years or older. Friends and family of Jessica Fisher and Life as MOM are ineligible for entry. Please enter only once. The winner will be chosen randomly. The prize for this promotion is provided by and shipped by Funky Monkey and/or its representatives. This post will be updated with the beginning of the winner's email address. Jessica Fisher and Life as MOM will not be held responsible for unclaimed or undelivered prizes.
Today's Frugal Friday!
Time to swap ideas and inspiration for saving money and getting good values.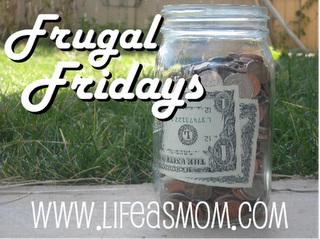 How do YOU save money?
Please remember to follow the Frugal Friday Guidelines or be deleted.
Post a money saving idea and explain how it is helpful in your post.
No giveaways or deals posts.
Recipes are allowed, but you must explain how it saves people money.
Please include a link back to Life as MOM.
To make things simple this week, fill out the form to enter the giveaway. Share your Frugal Friday link in the comments section.
Disclosure: I have received sample product from Funky Monkey. All opinions are my own.