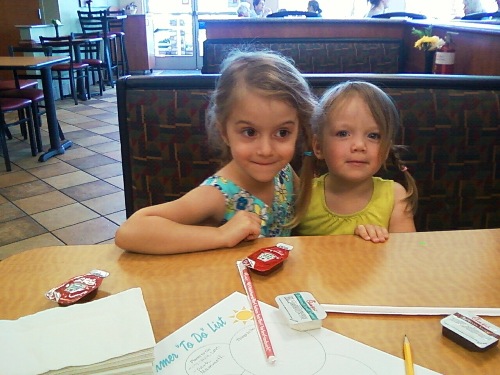 Yesterday the kids and I headed to Chick-Fil-A for lunch and I brought along our Summer Planning binder. I handed each of my writing kids a summer "to do" list to fill out since I wanted their input on what to do this summer. I took notes for the girls while the boys sat at the next table, filling in their papers.
The girls were hilarious, taking turns telling me what to write down. Watching Tangled was at the top of their list. (As if they hadn't seen it a dozen times already.)
As you know, this book holds much of what has been successful for us in the past to have a great summer.
Even More Ideas
In the last week or so, I've stumbled across even more ideas for summer fun. Here's a sampling:
The Summer Park Tour :: Happy Brown House
30 Fun Craft Sites to Keep Your Toddler and You Busy During the Summer :: The Mom Writes
June Month of Fun Downloadable Calendar :: Amanda Bennett Unit Studies
100 Days of Summer :: Mom Advice
10 Tips for Free Summer Fun :: Smockity Frocks
Have YOU found something cool to do this summer?
Tell us!