Movie Storage (Zone Defense)
We are a participant in the Amazon Services LLC Associates Program, an affiliate advertising program designed to provide a means for us to earn fees by linking to Amazon.com and affiliated sites. We participate in other affiliate programs as well. For more details, please see our disclosure policy.
On Zone Defense, we're tackling clutter and working to put in place a game plan for home organization.
Well, I didn't know that the halftime show would last as long as it did. May is such a blur to me. I'm not sure what happened.
Did you get your living spaces all decluttered, cleaned, and organized? Honestly, it's a daily battle around here. But, this zone-by-zone approach is working for me. I feel good about doing something even if I can't do everything. And slowly I'm working through my house to dejunk and simplify.
And just when I'm done, it will be time to start all over again. Hehe. Such is life.
May's assignment was to tackle living areas and entertainment items. We talked about the main spaces as well as book storage. Before we move into June's zone (travel and transportation stuff), let's squeeze in a few good flicks.
What to do with your movie storage?
If you are super high tech, then you probably have all your films stored as digital copies. It's lightweight, takes virtually no physical space, and easy to dust.
For the rest of us, you've probably got discs and tapes to organize. Yes, I said tapes. We still have some VHS tapes from the Ice Age. Since our VCR/DVD player still works, I haven't yet given them the heave ho. I mean, we have the original Toy Story on tape!
It's getting a little worse for wear, though. It's days are numbered. But I digress…
What should you do with your movie storage?
While I am a big fan of storing things right where they are used, this currently isn't the solution for our living room where our TV is setup. See?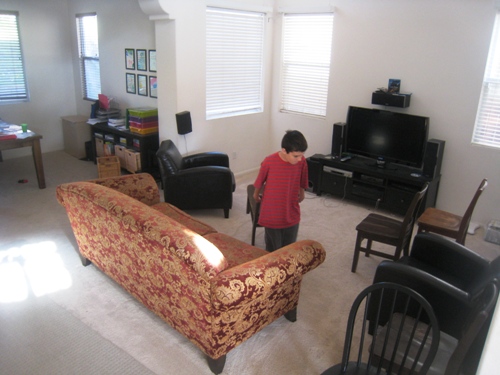 It's a fairly simple — and on a good day — uncluttered room. TV, speakers, TV table, two leather chairs, a couch and a lamp. The extra chairs pictures are normally in our school room. So, there's not a really good place to store movies, especially since I don't love having things out in the open.
So, our movies are stored just to the right of this picture in the foyer in the Red Dresser. Yes, that's its name: The Red Dresser. (IKEA, Hemnes collection in case you were wondering.)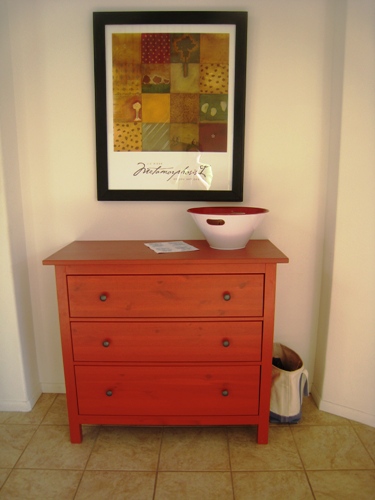 Top drawer: handy things like flashlights, tape measures, extra hair clippies (in two words, junk drawer).
Middle drawer: movies
Bottom drawer: handy things like bathroom scale, kites, and candles (read: junk drawer number two)
This is what the movie drawer looked like before I got back in the game: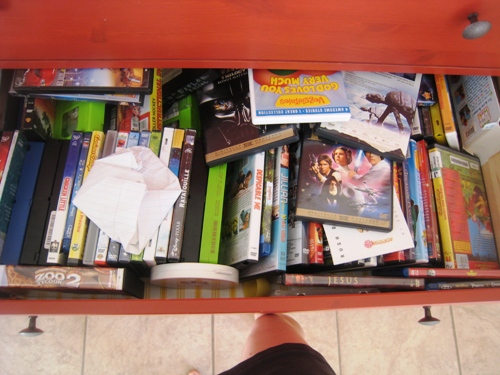 I spent an hour or so sorting through all our movies, putting them in their right cases, labeling some blank cases, throwing out useless cardboard sleeves, and basically setting this space to rights.
I even discovered that our Incredibles DVD was not scratched as we previously thought, but was instead rubbed with crayon. A little polishing reveals that we can once again watch the adventures of Elastigirl in her "life as MOM." The bonus features are missing, but the film is there. Yeah! The kids were so pleased. That is an all-time favorite that we haven't screened in quite some time.
This is what the drawer looks like now: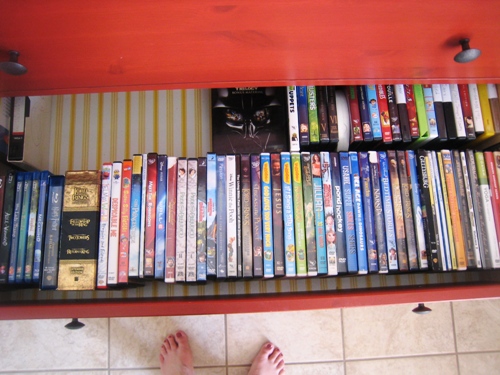 The VHS tapes are stored in a box in the garage since we view them so infrequently. No worries — our garage stays quite cool, even in summer, so we're good on that front.
This one simple thing made such a difference. At least in our weekend nights. The kids and I found all kinds of movies we haven't seen in a long time. I was reminded of those sweet Roy Rogers days when my little boys loved to play cowboys and video games weren't even a twinkle in their eyes.
Sigh. The good old days. 😉
So, your task for the week is to go tackle your movie storage. Ditch the films you no longer like or watch. Reorganize. Do some polishing. Watch a good flick. Be Mrs. Incredible.
How do YOU organize your film storage?
Disclosure: if you make a purchase through that Amazon link up there, I do receive a small percentage of the sale.