Movie Surprises: Four Films We Loved
We are a participant in the Amazon Services LLC Associates Program, an affiliate advertising program designed to provide a means for us to earn fees by linking to Amazon.com and affiliated sites. We participate in other affiliate programs as well. For more details, please see our disclosure policy.
Over the last six months, I've been pleasantly surprised by some movies I've seen. I didn't have huge expectations of these films, possibly because I did not research them heavily. Perhaps it helps not to know about the latest and greatest.
Regardless, I was very pleasantly surprised. These films got two thumbs up and I would recommend them for any date night. Just make sure you have a kleenex handy.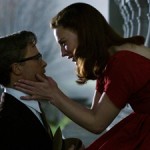 The Curious Case of Benjamin Button – I'm not a huge fan of Brad Pitt. However, he is an amazing actor and did quite the performance in this movie. I don't want to say much because it might ruin it. And it's a good ride, this movie. While there may be situations and language that would make some uncomfortable, the film has depth. I didn't think much was "gratuitous." And yes, the concept of the film is a little odd… he starts out old and grows young? But, it works. And it really made me value my husband more, especially in light of the Robert Browning quote, "Grow old with me. The best is yet to be." This story has it all: birth, love, life, aging, forgiveness, and death.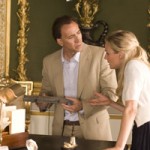 National Treasure 2: Book of Secrets – In a totally different league from Benjamin Button, I appreciated the adventure, pacing, and mystery of the sequel to the original National Treasure. In fact, I prefer this film over the first one. We watched this film as a family. And while I don't remember every situation, I felt comfortable letting my kids watch it. It fit in well with our study of The Civil War, despite any historical inconsistencies there might be. And the character Riley always makes us laugh.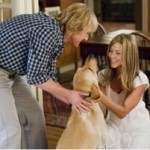 Marley and Me – Based on the trailers, we assumed this movie was just another dog movie full of slapstick that would make the kids laugh. We were wrong. It's not really for kids. But it is for parents. It is a wonderful story of growing up and growing old and learning and loving and laughing. Jennifer Aniston does a remarkable job as a mom learning to roll with the punches. Oh my! Did I feel her pain. And, seeing as she hasn't yet walked that path in real life, I am extra impressed with her ability to be a real mom on film. I was very pleasantly surprised with this movie, even if the kids were bored. Save it for date night.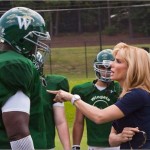 The Blind Side – You know we love ourselves some football around here. But, to be honest, I had no clue who Michael Oher was. Hubs and FishBoy12 did, of course. The movie is based on his real life story, which is remarkable. We watched this film as a family and absolutely loved it. And, can I just say Sandra Bullock does a fantastic job? (I suppose you didn't need me to say that since she won an Academy Award, but still.) Wow! I wished I walked around with that much confidence and attitude.
As lazy days and summer movie nights roll around, you may be looking for a good flick. I give these films the FishMama Stamp of Approval. All have humor, depth, love, and tell a good story.
Seen any good movies lately?