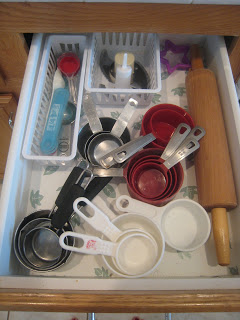 Years ago I spent several weeks reading books on household organization. One of the tips I found (though I can't remember where) was the idea of consolidating all your baking utensils in one place.
Here's my baking drawer. This is where I keep all my measuring spoons and measuring cups as well as the blades to my food processors, my rolling pin, and stray cookie cutters. Basically, anything I need for baking is all in one place. This kind of organization totally works for me!
Got a great storage trick for your baking stuff? Share it with us.
*P.S. Yes, some of those measuring cups are dusty with flour. I use them so often, I don't wash them everytime, as long as I'm using flour again. Don't hate me.