This is my friend Jessika with FishBaby (now FishChick3) in her arms. Jessika has always been one to give my tired arms a break. She and her husband held vigil in the hospital waiting room while I labored with our first baby. It was a long night!
She was the first to babysit that first baby, besides my mom, of course. And she has done FishKid-duty on more than one occasion. In fact, Jessika, has been quick to come to my aid whenever time and space have allowed her to do so.
We've been friends for over 15 years, and Jessika has stuck with me through thick and thin. When I've gone off on some wild and crazy stunt (be it freezer cooking or moving cross country), she has always supported me, even if she didn't get it.
When others have abandoned my friendship, she has remained steadfast.
Jessika is one of those ladies who will take on herculean tasks — for the benefit of others. I take on herculean tasks — for the benefit of myself. See, the difference between us is bigger than just how we spell our name.
(I'm Jessica with a C; she's Jessika with a K.)
Jessika with a K is one of the handful of lovely people with whom I could share anything — and she would still like me when I was done talking. That's a rare bird, that.
She is, truly, one in a million.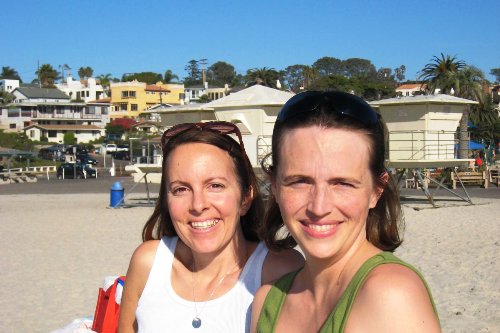 My Favorite Cheesehead
She's also unique in the fact that she is one of the few women I know who truly loves football. She's a lifelong Packers fan.Yes, really.
(Me? I'm just here for the food. Please pass the Sour Cream Onion Dip.)
But, the men in my life love football as does one of my best friends, so I'm learning. When we get together on Game Day, I have to find something else to do besides just yak it up. Jessika wants to watch the game!
Go figure.
Recently, the folks at Orville Redenbacher's gave me an assignment: to create a Monday Night Football Gift Basket and give it to someone. Well, of course, the first person who came to mind was my favorite Cheesehead!
Jessika is such a giver, it was really fun to have a chance to lavish goodness on her.
My Monday Night Football Gift Basket
It was a joint effort by FishPapa and me to compile the contents of Jessika's basket. He is, after all, the resident armchair quarterback at our house, so he had some great ideas.
Here's what we came up with: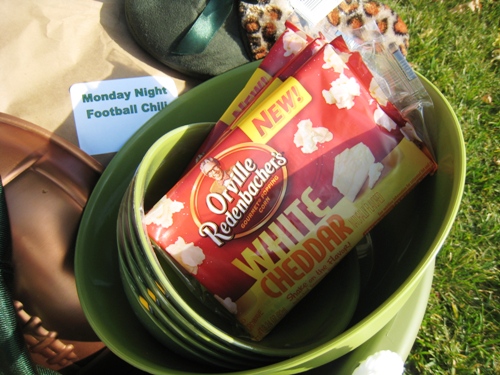 Orville Redenbacher's Flavors Popcorn, in White Cheddar – This is a fun new product that fans of flavored — and unflavored — popcorn will love. The microwaveable packets come with the flavoring "on the side." I'm a very "on the side" kind of girl, so this really appeals to me.
You get to add as much or as little of the cheese sprinkles as you would like, making it customizable to suit everybody. The packets also come in Extra Cheese and Sea Salt and Vinegar flavors.
We popped up three bags recently and then laid out all the sprinkle packets to let the kids help themselves. The kids loved to make their own creations. There were no leftovers. And as always, the popcorn all popped. Hardly an old maid in the bag.
Green Bowl Set – Packers fans have to have green bowls to eat their cheesy popcorn in, right?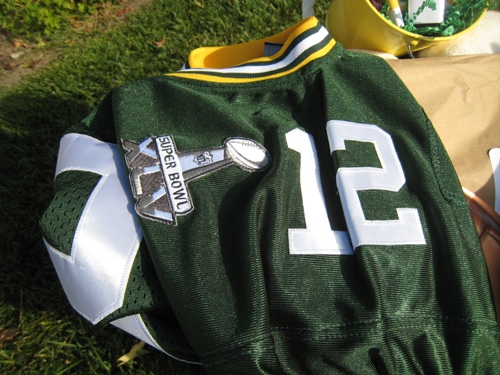 An Aaron Rodgers Superbowl Packers Jersey – Hubs is an aficionado of football jerseys. Last year he found a great source of authentic jerseys at really great prices. He treated our football friends with jerseys last year. We tried to get Jessika one, but the women's version we ordered was a little too blinged out for our tastes — and hers. I don't think that Aaron Rodgers wears rhinestones.
This year I think we got the right jersey, complete with captain's patch and a Superbowl patch in commemoration of last year's Packers triumph.
A Monday Night Football Chili kit – Unfortunately, Jessika lives about 3 hours away, so we can't easily get together for dinner, like in the old days. But, the next best thing is providing everything she needs to make supper at her house. The kit includes all the cans, seasonings, and chips (as well as the recipe) for one of our favorite chilis. She just needs to put it all in the crockpot on Monday morning and she's good to go for Game Night.
Her favorite pop – I know that Jessika has a preferred beverage. So I bought her a 2-liter to share with her family as well as an 8-pack of those itty bitty cans so that she can indulge herself whenever they're not looking she wants.
A football cake pan and a cake mix – Jessika and I both love to cook, often swapping recipes and talking about yummy things to eat. This is a fun cake kit for her and the kids to bake up some Sunday afternoon.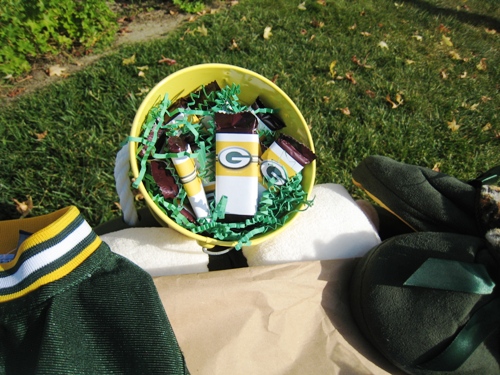 A bucket of chocolates – I know how much Jessika loves to relax watching a game. And isn't chocolate just a natural accompaniment? These are small snack size bars, so she can share. If she wants. I gussied them up with a few Packers stickers.
(The team posts logos for free download. I did a little cropping and shrinking and printed them on name badge stickers which are a perfect fit for snack size candy bars.)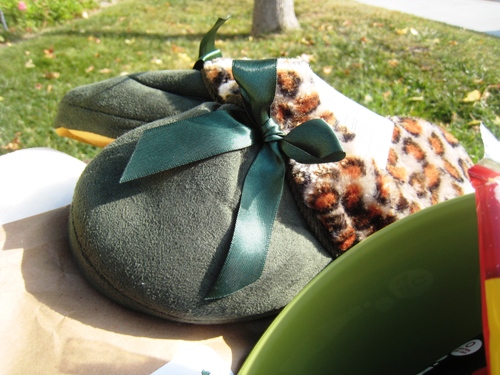 Slippers reminiscent of the Packers' colors and a cozy blanket – It's really hard to find Packers gear in Chargers country. But, I did find these slippers in green and gold leopard print as well as a cozy blanket. I think the slippers have got a little spunk. They're still fanwear, but not overly so. And the blanket looks like just the right thing to cuddle up with.
A big green bucket – Finishing off the Packers green theme, I chose a large, multi-purpose green bucket to gift it all in. Jessika can use it to store blankets, shoes, sports equipment, pool stuff, whatever. Love the large size!
The best part about the large size is that this is all too big for me to ship. Oh darn! That means that we have to get together, Jess. Certainly you don't want to wait until December, do you? Get your calendar out, girl friend, and let's find a closer date! 😉

Win some snacks from Orville Redenbacher's!
This week Orville Redenbacher's is sharing the popcorn love.
25 LifeasMOM readers will win product samples of the new Orville Redenbacher's Flavors.
And one luckier reader will win a Monday Night Football themed gift basket.
(Obviously, I've custom made Jessika's gift basket to fit her, so your basket will be different. It will still include some great popcorn snacks and other fun stuff perfect for Monday Night Football.)
To Enter:

Leave a comment, answering the following: Do you think you'll snack on Orville Redenbacher's popcorn more now that it comes in new flavors? Which flavors are you most excited to try?

For extra entries, "like" both Orville Redenbacher's and LifeasMOM on Facebook, and leave a second comment telling me you did so.
This giveaway will be open until Sunday, October 9, 2011 at 8 pm PST. Winners will be chosen at random and notified via email. Please respond within 48 hours to claim your prize. This giveaway is now closed and the winners have been notified by email.
Disclosure: I am a participating blogger in the Orville Redenbacher Flavors Showcase. I have been compensated for the materials needed for my Monday Night Football gift basket as well as for my time spent writing. However, my opinions are entirely my own and I have not been paid to publish positive comments.