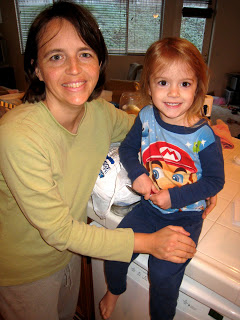 my helper and me, bedheaded and ready to cook up a storm
You knew I was a crazy woman, right?
Just thought I'd put that out there right now. I've been planning and shopping and scheming for how to fill my freezer. I filled out my Freezer Meal Worksheet this weekend because I know I need to think through the whole process in order to make freezer cooking really work. If you're tackling a big cooking day, you can access a blank worksheet here.
I've got my work cut out for me.
PrepWork:
Chop onions, mushrooms, carrots, and garlic
Peel and slice apples, potatoes (great kid jobs)
Soften tortillas in oil.
Sort and soak beans (kid job)
Prepare masa
Soak corn husks (kid job)
Grind bread crumbs (kid job)
Order of Meal Assembly:
Cook chuck roasts in crockpots overnight.
In the am, put turkey in the oven.
Shred beef and divide for individual recipes (Wrap beef for shredded beef tacos and shredded beef w/ gravy, label, and freeze.)
Start red sauce on the stove.
Start ragu in one crockpot.
Start first batch applesauce in other crockpot.
Make beef gravy w/ drippings. Wrap, label, and freeze.
Assemble taquitos. Wrap, label, and freeze.
Assemble tamales. Wrap, label, and freeze.
Boil macaroni, drain, cool, and assemble mac and cheese. Wrap, label, and freeze.
Prep potatoes and start boiling. Reserve some for turkey pot pie.
Mash and package mashed potatoes.
When turkey is done, carve, and divide meat.
Make gravy with drippings.
Assemble enchilada casserole.
Assemble turkey pot pies.
Cool, wrap, label, and freeze applesauce. Start second batch.
Cool, wrap, label and freeze ragu.
Start beans cooking.
Mix up and bake granola.
Make meatballs, bake, cool, wrap, and freeze.
Cook taco meat, cool, wrap, and freeze.
Make cookie dough.
Make pies.
Prepare biscuit mix.
I'm not really sure how much I can do in the next day or two. My top priority is to care for my children. But, I've got some tricks up my sleeve on that front. So, we'll see. Check back later for an update.