Last Thursday marked fifteen years since the day my husband proposed to me. It's amazing that so much time has gone by. We've been through many ups and downs in the past 1 1/2 decades. But, I am so thankful and pleased to say that I love him more today than I ever did.
We actually met two years and one week before he proposed. I was a sophomore in college. He was working construction, playing in a band, and sporting long hair and an earring. Not exactly what I was expecting.
I had just joined a homegroup, a type of Bible study/fellowship group in our church. The group was a mix of ages and life stations, some married, some not. Fish, as he was called because his last name was Fisher, had been a part of this group for a few years. I was a newcomer, a youngish Christian, looking for friendships with other believers.
We didn't speak our first words to one another until I broke my jaw in a bicycle accident two weeks later. I tease him that I had to do something drastic to get his attention. We started to talk after homegroup. He advised me on work situations, asked about my family, became my friend. We were friends before we were anything more.
By April we had gone out for breakfast and to a movie. My roommates wondered what was up. And to be honest, I didn't really know. I certainly had feelings for him. But, I had no idea what he was thinking.
We count our "first date" as the night I made dinner for him: chicken parmesan. We still laugh over his dismay that I broke the spaghetti to fit it in the pot. That night I learned that he was not the 22 or 23 that I believed him to be. I was quite shocked to find that he was 9 years older than me. But, I liked him anyway. That night we somehow established the fact that we both were interested in pursuing something more than friendship.
You could say that it was a whirlwind romance in a sense. By the end of May we were already discussing marriage. We knew that our time together was going to be limited as I was leaving in August for a year's study abroad. I would be gone ten months.
Never once did he try to sway me from what had been the goal of my life up until this point. Quite the contrary, he encouraged me as much as he could in setting off for France. Who knew what would happen over that year?
I moved across the globe and experienced all that I could of life in Europe. Yet, I left my heart at home. He came to visit me over Christmas and got to experience some of the same things as I. It was wonderful that he so encouraged me in my pursuits and tried to make them his. He even tried to learn French, God bless him.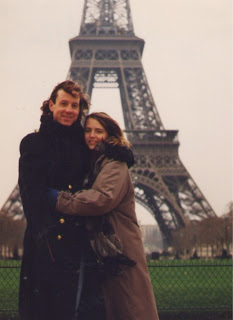 Fish and I, Paris, December 1992
He also did what he could at home to prepare to be a husband, making efforts to economize wherever possible. He even moved in with his mom for that year in order to save money on rent and get out of debt.
Well, we stuck it out. Over countless miles and thousands of dollars in long-distance phone bills, by the end of the ten months we knew we wanted to spend our lives together. Unbeknownst to me, he had already chosen a ring and was intent on paying it off before he proposed.
My sweet guy popped the question on his birthday, January 29, 1994. We had gone to dinner and were walking along the Biltmore wall at Butterfly Beach in Montecito. I remember thinking in that split second after he asked me to be his wife, I'm on a threshold to a new life.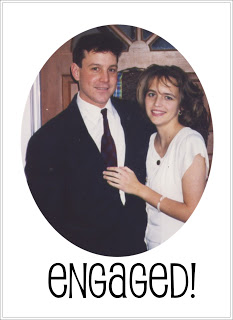 While he is certainly not a perfect man, my husband is Mr. Right for Me. He puts up with my foibles and follies, all my whines and whimpers. He encourages me in pursuing things that I truly desire. He is my knight in shining armor, quick to help those in need. He is a fantastic dad and a loyal friend. He is, indeed, mighty fine.
I'm so thankful for this good life and the fine husband God has given me.
Broken jaws and broken spaghetti….do you have any quirky twists to how you met your man?
Related:
Visit Amy's Finer Things for more "fine things" every Friday.
Stop by Heavenly Homemakers on the 7th for "Share Your Love Story."