If you've been following along with Crystal and I regarding the Eat-from-the-Pantry-Challenge, you may be wondering what in the world we're talking about. I had a great conversation yesterday with a friend who had lots of questions. It really helped me see that there are a number of perspectives on this. You may have a picture in your head of what we're doing and think that it is an impossible or crazy thing to tackle. You may be right. But, you may also have an inaccurate picture in your head of what we're doing.
So, let's look at one fundamental point:
Every pantry is different.
Perhaps you are a hard-core coupon queen and your cupboards are bursting with food? Jen's are.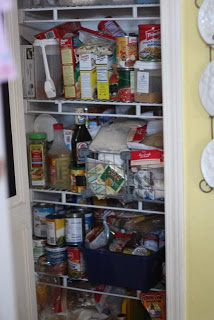 Or maybe your cupboard is not dangerously full, but you know you could get by for quite some time. Myra was able to plan 21 meals from what she had:
Or maybe you regularly stock up on beef, like
Amy
, and you know that you need to make room for your new supply.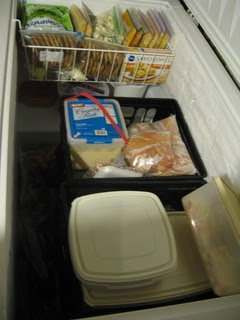 The point of the Pantry Challenge is not to see who will be booted off the Island because they can't keep up with the others. There are no "others" to keep up with! Just yourself.
Each of us is starting from a different point. You may have food coming out your ears or you may not. The goal is to use what you have, be creative, and shave a little off your budget. Your challenge may only last a week. Or you may be able to eat for two months on what you have in storage. There is not one "right way" to do this.
My friend Jen is only going to spend $100 to feed her family of 7 in January,
per her husband's encouragement
. I don't have the stockpile she does, so my grocery trips will look different. And that's okay. We're each trying to "look well to the ways of her household." And the ways of my household look different than someone else's.
Are you taking the challenge? If so, what are your fears, concerns, or questions?