My Sister & My Friend
We are a participant in the Amazon Services LLC Associates Program, an affiliate advertising program designed to provide a means for us to earn fees by linking to Amazon.com and affiliated sites. We participate in other affiliate programs as well. For more details, please see our disclosure policy.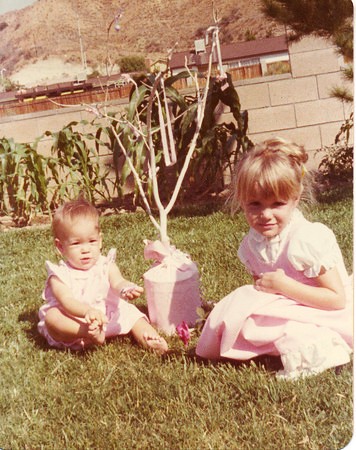 I hated her for about twenty years. Hard to imagine, isn't it? That sweet cherub of a baby despised by her big sister. I can't really explain it.
We fought like cats and dogs for a long time. I always wanted to have the upper hand. And I was not going to give in. I felt so  threatened.
Thanks to God working in my heart, the hatred disappeared near my 20th birthday. It probably took another ten years for us to really learn how to get along. Well, me, anyway. As I look back, I've been the harsh, obtrusive, bossy one. I think she would have gotten along fine if I had been reasonable.
When I was about thirty and she was twenty-seven, I realized what a blessing God had given me in my sister.
Where I'm weak, she's strong. She's funny and creative and artistic, and I'm not so much. She has great fashion sense, and I, obviously, don't. She's got street savvy, and I am gullible. She's got dogs; I've got kids.
She loves me and my family something fierce. Probably with the same fierceness we used to fight with. As I tell my kids, "Auntie Jamie would walk over hot coals and broken glass in her bare feet to help us."
Thankfully I didn't miss out! Some sisters never resolve their differences and end up carrying them to the grave. While I can mourn the loss of the early years and what could have been, it's better for me to rejoice in what we are today:
Sisters as well as friends
Today is my baby sister's birthday, and I'm so glad that God gave her to me.
Happy Birthday, Jamie! I love you!