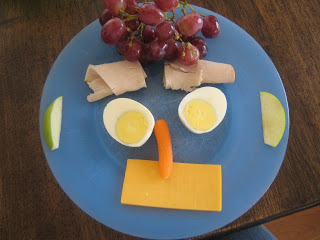 This week promises to be extremely busy. One of the things about having a large family is that when I actually get around to booking doctor and dentist appointments, we have them in droves. This week involves three dental appointments, one visit to the pediatric dermatologist, one consultation with the orthodontist, a well-baby check, and a homeschool park day. Needless to say, the kids and I will become well accustomed to school-in-a-bag.
That said, I'm going to be pulling out the easiest meals I can think of this week. The weekend involves my 15th wedding anniversary and a family reunion, so we'll get some fancy food going on near the end of the week.
Breakfasts – we have a glut of cold cereal thanks to great coupons and sales. But, I don't want to wipe out the supply or the milk inventory. So, we're going to try to revisit our regular breakfast schedule.
Lunches – at least three lunches will be brown baggers. Nice because I can plan and make those the night before.
Thankfully, the kids really like "snacky lunches" – pictured.
Dinners –
leftovers from Mother's Day (we ended up choosing the Luncheon choice here.)
pasta, Bertolli sauce, veg and bread
bean and cheese chimichangas
DIY nachos
our special anniversary tradition (come to URS on Thursday to find out what it is)
Family meal#1 – grilled meats and vegetables, cheesy potatoes, salad, and bread
Family meal#2 – Costco pizza
For meal planning inspiration, check out I'm an Organizing Junkie every Monday.