The following content is sponsored by Napa Filters. Congrats to the winners: my4boysand1@, melissabieniek@, happyhomelivin@, robjonsonofwichita@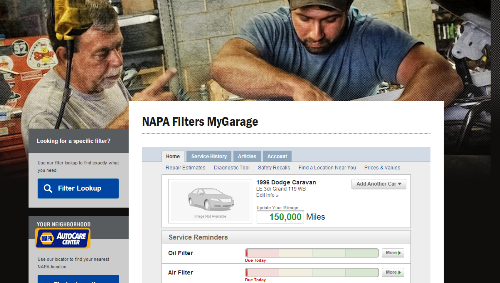 Last week I was out running errands when the van didn't fire up quite like normal. I didn't think much about it until the next day when it stalled. In traffic. Three times. In two miles.
I made it to my dentist appointment after all, when my husband came to switch cars with me and limp the van home. The receptionist at the dentist asked me if this was a surprise to have car trouble.
I laughed.
No. It's not a surprise. I'm not a car person. Meaning, I don't really care if I have a fancy car. I don't mind that it has 150,000 miles on it or that it's now 17 years old. I like it that it's paid for.
But, with that comes the costs of maintenance as a car ages and the occasional breakdown. I'm thankful that a big part of this scenario is that my husband knows how to fix almost anything.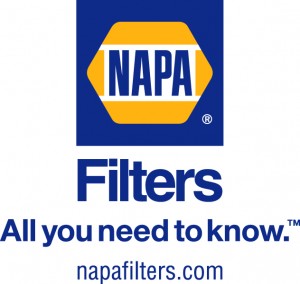 Part and parcel with DIY maintenance is keeping good records and knowing when things need to be repaired or replaced. Napa Filters has made MyGarage, an interactive online platform that makes vehicle ownership and maintenance easier.
Sign up for a free account on MyGarage and get help for managing your vehicle. The service provides:
Vehicle maintenance records of parts used, dates, anticipated replacements
Resources to help better anticipate upcoming costs
Notifications for when it's time to install or buy new parts
A diagnostic tool to help determine the root cause of any unforeseen problems
The program is very easy to use and is not aimed at serious automotive buffs. I was able to use it! And remember, I'm not a car person.
It's designed for average drivers and their families as a way to further protect their vehicle investment, while giving them the ability to handle simple maintenance tasks on their own, if desired.
Whether you're a car buff or not, this tool sounds like a great way to keep track of what needs to be done on your vehicle. You can access MyGarage from any device via the internet, so you don't need to worry if you have your records book with you or wonder where it is.
This week Napa Filters is offering a fun giveaway for Life as MOM readers.
Four readers will each receive a $50 gift card to Best Buy so that they can purchase CDs or car electronics to make every part of the ride a pleasant one. (Napa Filters is in no way affiliated with Best Buy.)
To Enter:
Simply complete the information on this form. Please know that the information is only being gathered for the purposes of mailing you your prize in the event that you are chosen as the winner. This information will not be sold, traded, or given away.
This promotion is open until Sunday, May 26, 2013, at 8 pm PST and is limited to US residents, 18 years or older. Friends and family of Jessica Fisher and Life as MOM are ineligible for entry. Please enter only once. The winner(s) will be chosen randomly. The prize for this promotion is provided by and shipped by the Napa Filters and/or its representatives. This post will be updated with the beginning of the winners' email addresses.
Disclosure: I have partnered with Napa Filters to bring you this information about car maintenance and MyGarage. All opinions are my own.