New Family Movies on DVD
We are a participant in the Amazon Services LLC Associates Program, an affiliate advertising program designed to provide a means for us to earn fees by linking to Amazon.com and affiliated sites. We participate in other affiliate programs as well. For more details, please see our disclosure policy.
Check out new movie releases now available on DVD/Blu-Ray.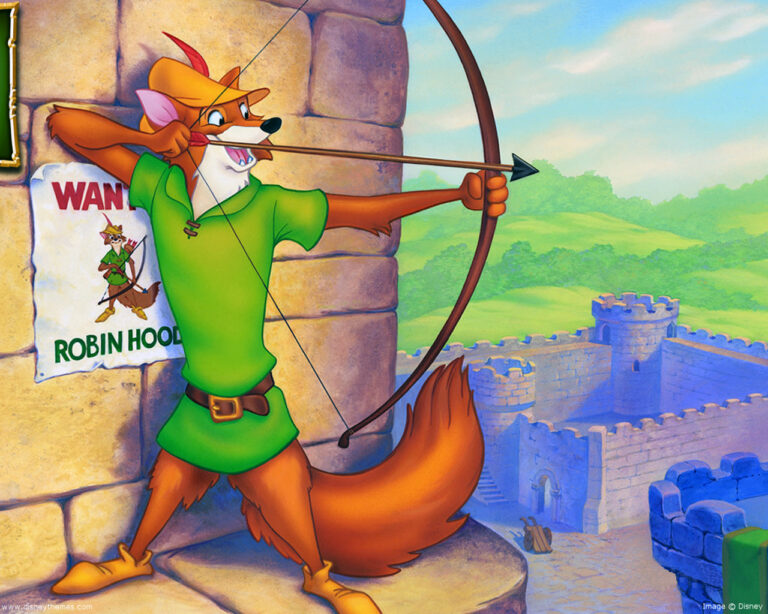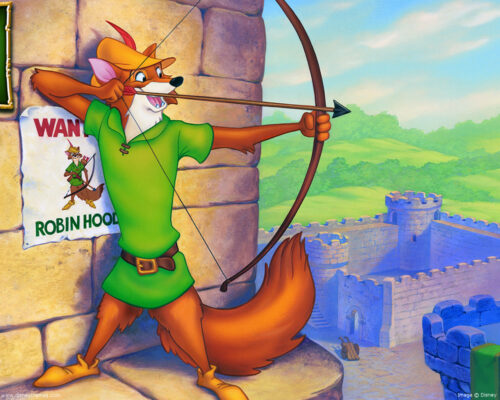 photo source: Disney's Robin Hood
This post does include Amazon affiliate links. If you make a purchase through those links, I am paid a small amount in way of advertising fees.
As I look back on my kids' childhood era, there are so many family movies that have defined certain seasons of our lives. Oh sure, there was the Bob the Builder/Dora the Explorer era, but there were also full-length films that made a big impact on my children's play.
In fact, for the first ten years of my parenting career, my kids never watched TV. We relied on videos for occasional entertainment — and babysitting, ahem.
For the last five years, we've paid for cable, mainly to watch hockey, football, golf, and Regular Show. Hubs recently called the cable company to cancel. I'm not sure how long that will last, hockey season is just around the corner. But for now we're a DVD/Blu-ray/live streaming kind of family.
Each summer for the last bit has been colored by a certain obsession. 2011: We watched all the Harry Potter films after reading each book together. 2012: It was an Avengers summer. 2013: We've been streaming Foyle's War over Amazon Prime Instant Video. It's been great fun to share these films and experiences with our kids, to talk, laugh, be a little scared together.
There are also a number of classic as well as new movies that have come out on DVD and/or Blu-Ray this summer. The classics are those that my older boys watched on video tapes borrowed from the library. It's fun that my littles get a chance to experience them as well. The newer films are those that we can all check out together and compare to old favorites.
Here's a run-down of recent Disney DVD and Blu-Ray releases that we were sent to review recently: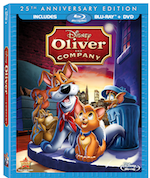 Oliver and Company – In honor of Oliver and Company's 25th Anniversary, Disney has released the Blu-Ray debut of the film.
The movie tells the story of Oliver, a mischievous orphaned kitten, who is befriended by Dodger, a carefree pooch and his ragtag family of misfit mutts. Ring any bells? It's an animated, animalized version of Oliver Twist.
Of course, life gets better for Oliver when he is adopted by a lonely little girl named Jenny, until the bad guy Sykes and his Doberman sidekicks try to keep Jenny and Oliver apart. It all works out in the end. And when your kids read the original Dickens hopefully they'll understand who inspired whom.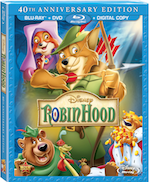 Robin Hood – Robin Hood is 40 years old?! Almost as old as me! Yet I remember its being re-released in the theaters when I was a kid, before the advent of video. Yes, I'm that old.
My big boys watched a VHS version of this film when they were wee laddies. So, I'm thrilled that the movie is now available on DVD and Blu-Ray. We still have our VHS collection, but the video player died this past spring.
Again, with the animals playing classic literary figures, Robin Hood,  his little buddy Little John and his happy band of Merry Men outfox that stinker of a Prince John to save the good people of Nottingham. Dashing from one daring deed to the next, Robin won't rest until he wins the hand of Maid Marian and restores King Richard to the throne. The songs in this animated musical are fabulous. This is one of my favorites among classic Disney.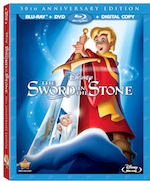 Sword in the Stone – I had no clue that The Sword in the Stone was 50 years old! I would have said it was on the younger side of this classic trio. But, no, it's been around for awhile. It's a Walt-era film, meaning it has his fingerprints all over it.
A play off the classic King Arthur tale, the film recounts the story of a young orphan named Wart and the extraordinary wizard Merlin. According to legend, only someone with "the purest character and inner strength" can pull the enchanted sword from the stone and claim the throne of England. Your kids will enjoy following his journey.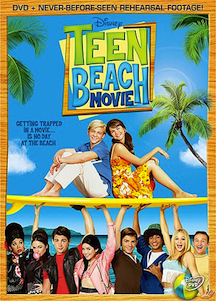 Teen Beach Movie – Thankfully, I am too young to know the Annette beach movies first hand. But, I get the cultural references in this spoof. This modern day take on the beach culture combines elements of classic stories like West Side Story and the beach movies of the 60s.
Mackenzie and Brady get warped into a movie. A beach movie no less called Wet Side Story. A little bit of cheese, but fun, especially if you like musicals.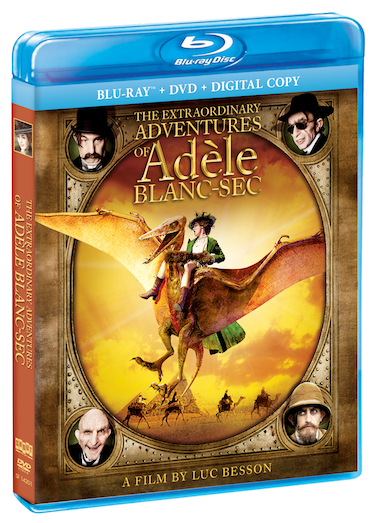 The Extraordinary Adventures of Adele Blanc-Sec – Releasing next week, this film tells the story of a French, female Indiana Jones-type character. Adele Blanc-Sec is a young woman in Paris 1912. A prehistoric pterodactyl egg hatches in the Natural History Museum, with the monster off to prowl through the city of Love. Adele connects with the creature and meets several characters from ancient history The film is based on the historical fantasy books by Jacques Tardi which I've never heard of, but am interested to check out.
The movie is French with English dubbing, a little hard to get used to. There are also a few innuendos that went over my kids' heads. You might want to preview just in case.
 Did you watch a film you loved this summer?