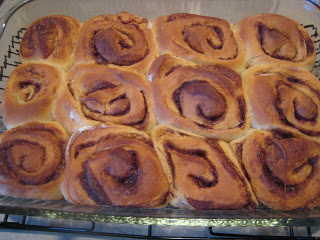 It all started when Crystal posted about making cinnamon rolls for the 4th of July. And since my dad had bought me this, I knew I could do it with some degree of success. And now it's been about four weeks and we are sucked in. Completely. From FishPapa to FishChick.
Cinnamon Rolls are right up there with Saturday Morning Pancakes as a FishFam Tradition.
And even though I not the fantastic food stylist and photographer that Pioneer Woman is, I hope you'll believe me when I say, this is a tradition worth keeping!
Of course, I'm using a recipe from the best bread machine cookbook of all time. If I posted all my favorite recipes from that book, I'd be in big trouble. So, you will have to go hunt it down for yourself. (But, because I love ya, I googled the author and found a different cinnamon roll recipe that she created. You can try that one and let us know what you think.)
So, my Saturday night ritual is to make up 1 1/2 batches of Morning Sticky Buns. The 1/2 batch gets made "sticky" and the full batch is straight up cinnamon roll. After all are formed and panned, I cover them with plastic wrap and let them rest in the frig overnight. I bake them all in the morning and whip up some powdered sugar glaze that the kids spoon "on the side" for dipping.
And, oh, do we have a good time at Sunday morning breakfast!
Have you got any weekend breakfast traditions? Share them with us!