A New View
We are a participant in the Amazon Services LLC Associates Program, an affiliate advertising program designed to provide a means for us to earn fees by linking to Amazon.com and affiliated sites. We participate in other affiliate programs as well. For more details, please see our disclosure policy.
Visits to amusement parks were a regular occasion for my family when I was growing up. Since we lived about a 45 minute drive from "the happiest place on Earth," and only five miles from Magic Mountain, a day at the park was a frequent activity. Those days are a wonderful part of my childhood memories.
I have glimpses in my mind of racing to the Matterhorn – my all-time favorite ride – to beat the rush, of buckling in, of the exhilarating twists and turns, of cold blasts of air in my face, and of the breathless exit with my dad trailing behind and of running to my mom, sitting on a bench right outside the gate. My siblings and I would recount the tale of our wild ride and perhaps tickle the Baby while we told our story. Mom would smile and laugh and tell us about the some of the things she saw while she waited for us.
You see, in a large family, there was always a baby on our trips to Disneyland. And part and parcel with "doing-an-amusement-park-with-a-baby-or-toddler" is that one parent is required to sit it out. That lot usually fell to my mom.
Monday I found myself at Legoland, experiencing an amusement park from a totally new perspective. For some of you this may be old hat. But, though our oldest is almost twelve, this was our first jaunt into roller coasters and theme parks. The kids had a fantastic time.
For me it was a rite of passage.
No longer was I the young girl cut loose to stuff herself with soft pretzels, waffle cone sundaes, and frozen lemonade. I was a mom of six on a budget.
No longer was I able to go where the wind or whim might blow me. I was counting heads every five seconds to make sure we hadn't lost anyone.
No longer was I feeling that exhilarating blast of cold air in my face as the roller coaster twisted and turned. I was on the bench with the babies.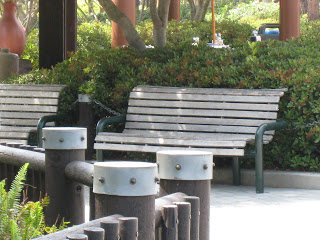 I think this surprised me. And, truth be told, I wondered what kind of fun I was missing. (Just for the record, FishPapa and I took turns going on rides with the boys.)
But, the Lord blessed me with a fine husband and as we talked about how different this experience was from the last time we hit a theme park, I realized that I wouldn't want it any other way.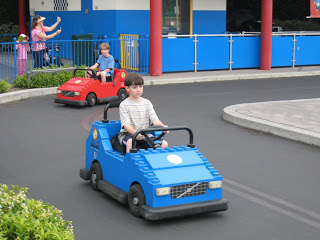 A trip to the amusement park was one way we could bless our kids. The smile on my four year old's face as he jousted a knight from atop a mighty steed or the excitement in my eleven year old's eyes when he came rushing off a roller coaster or the joy exploding from my eight year old when he got to drive his own car – well, those things are priceless.
And the baby? Well, could she be any cuter?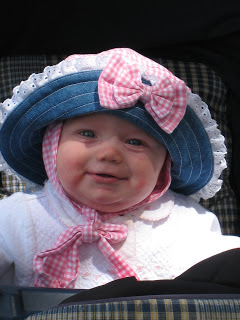 The view from the bench is a lot like motherhood. It's taking a step back and letting our children experience and enjoy life. As they grow, we have the privelege of helping them learn about the world around them. Sometimes without us.
We may not be the star players this season. But, that's okay. We can encourage them from the sidelines, smile, wave, take their pictures.
And we can greet them when they come to rest at halftime. Their success is our success. And every smile on their faces is a victory for me.
I wouldn't have it any other way.
(By the way, thanks, Mom.)