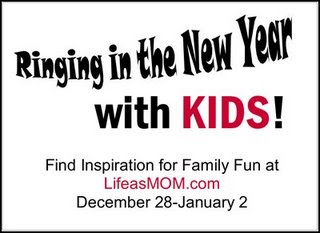 New Year's is the perfect combination of events. New Year's Eve represents a chance to look back on the past and all that we have to be thankful for. We get to see all the ways in which we and our families have grown. New Year's Day is the opportunity to celebrate a fresh start. And since we all make mistakes, I think it's safe to say, we all like fresh starts. New Year's Day is the beginning of something new and a time to anticipate how we will grow and change in the coming year.
Reflection and anticipation. Good food for thought and good practices to instill in our children.
How have we grown? Where have we been? Where do we want to be? What do we want to do?
As you consider how you will celebrate the passage of time this week, think about how to include your children. One way is to prepare a fun feast or two.
** New Year's Eve lends itself to the cocktail party format. The FishKids (and FishParents) enjoy what we call a "snacky dinner." We do this every December 31st, and part of the fun of it is that we are establishing a tradition in the process.
Hors d'oeuvres are great kid food. Kids love to eat with their fingers! And since cocktail foods usually don't involve flatware, washing up is a snap. The perfect family-friendly feast!
Prepare whatever snacks your family likes on New Year's Eve. Here are some of our favorites:
potstickers and egg rolls with dipping sauces
quesadillas
veggies and dip
fruit platter
lil' smokies on toothpicks
chips and salsa
sauteed shrimp
cheese and crackers
** As the evening winds down (we rarely make it 'til midnight), we break out the New Year's Cake. We're big on number candles around here, so we celebrate the birth-day of the New Year with candles on a cake the kids help bake and decorate. This week, of course, the numbers will be 2-0-0-9.
** After sleeping in (as much as possible) on New Year's Day, we like to lounge around in jammies and watch the Rose Parade. I have such fond memories of this from my childhood! We've only had tv reception for a couple years, so this is a new thing for us. I like to make a special breakfast to link into the memories. Some possible options include:
fruit salad
bacon or sausage
** Finally, a New Year's Day Dinner is another option for feasting.
Consider going with the traditional "lucky" foods listed in this article at Epicurious.
Or go with fondue, another fun and festive tradition for many families. You can get this free download for several fondue recipes from Dine Without Whine.
Prepare a theme dinner, revolving around a country. For instance, have a Scandinavian Smorgasbord or try your hand at tamales and a Mexican fiesta.
** Throughout it all, don't forget some festive beverages.
Sparkling apple cider is always a big hit. However, at two bucks a bottle, it's not cheap. Buy carbonated water for $.50/2 liter bottle (or thereabouts) and mix it with your favorite frozen juice concentrate. Just substitute the bubbly water for the water that is called for on the package. Instant sparkly juice.
Hot Peppermint Milk is also a delicious beverage. Just grind up leftover candy canes in the food processor or blender and combine it with powdered milk. Mix with water and bring to a simmer. Candy cane powder is also good, stirred into your favorite hot cocoa drink.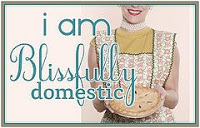 Don't forget to check out Blissfully Domestic's roundup of home-based good ideas.
What's on your New Year's menu? Please share your ideas in the comments section!