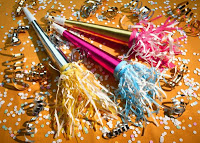 As Providence would have it, my family is sick for New Years.
Again.
I don't know why, but we have been sick over December 31 – January 1 almost every year in recent memory. Must be all that candy we consume in the previous month. It must break down our immune systems or something.
Anyway, I've got our munchies lined up. I'm sure that Garlic-Brie Bread is an excellent remedy for the common cold.
And, Amy's time capsule idea has me inspired. What a great way to capture the moment!
Today, Kate posted some fun craft activities. I like the party hat idea. Simple and quiet. Last night I cleaned up the school room/office, so I actually know where all the craft supplies are.
The opportunities for fun never stop! And so, come runny noses and sore throats, we will at least not be bored.
Have a wonderful New Year's Eve! Stay safe and take lots of photos! Come back on Friday to tell us what you did to celebrate and be entered into a great giveaway.