New Year's Eve Meal Plan to Print & Cook
We are a participant in the Amazon Services LLC Associates Program, an affiliate advertising program designed to provide a means for us to earn fees by linking to Amazon.com and affiliated sites. We participate in other affiliate programs as well. For more details, please see our disclosure policy.
Looking for something special for your New Year's Eve Celebration? We've gotcha covered with several appetizers, beverages, and desserts.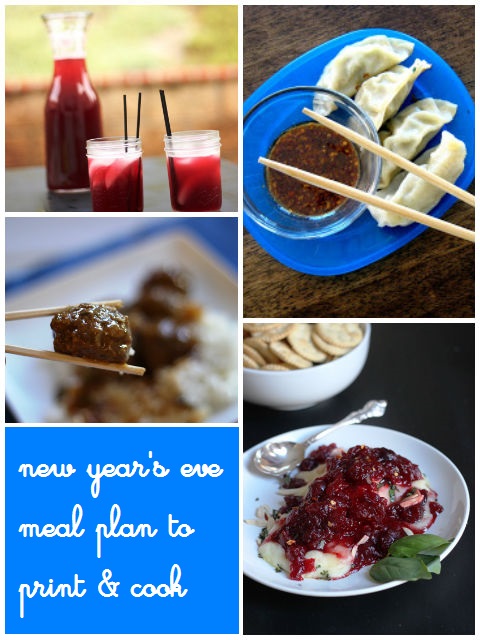 One of our family's favorite New Year's traditions is to have a snacky dinner, or mocktail party. For years I've prepared a variety of finger foods and made that our dinner.
Last year the kids took it up a notch by each taking one dish to prepare. The boys got pretty fancy, too, making homemade egg rolls, fried shrimp, pizza bagels, and stuffed mushrooms. They asked weeks ago if they could do the same. Score!
We usually mark the new year's birth with a birthday cake. This year we'll use number candles for 2014.
This week's free printable meal plan is a complete snacky dinner for you to recreate at home. Yum!
Here are the recipes featured in this special New Year's Eve meal plan to print and cook. You'll need to print each one out as well as print the meal plan and grocery list. After that, you're good to go.
Appetizer Meal:
Beverages:
Desserts: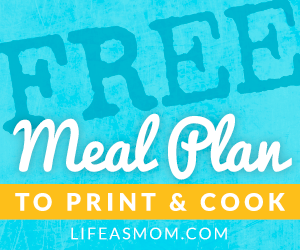 Other Printable meal plans
Did you know that there are now over 30 FREE printable meal plans plus a printable school lunch plan archived here at Life as MOM? Check them out and download a few so you can work your way to great food and peaceful evenings.
Each meal plan is designed to be kid- and budget-friendly, as well as be doable for novices as well as experienced cooks. And, of course each includes a shopping list and some make-ahead tips to make your week even easier.
Check out the meal plan archives if you haven't already. Looking for a different kind of meal plan? Head here for more meal plans to choose from. Want to learn how to make your own meal plans? Take Meal Planning 101.
What's your favorite meal to serve on New Year's Eve?