New Year's Traditions: Watch the Rose Parade
We are a participant in the Amazon Services LLC Associates Program, an affiliate advertising program designed to provide a means for us to earn fees by linking to Amazon.com and affiliated sites. We participate in other affiliate programs as well. For more details, please see our disclosure policy.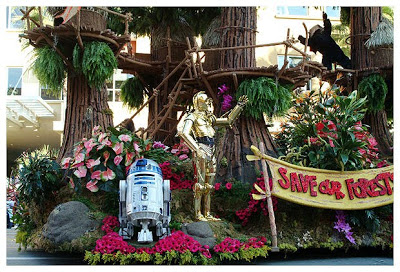 Being the Southern California Girl that I am, watching the Rose Parade was always a "must-do" on New Year's Day when I was a kid. My friends went to the parade in person, often camping out overnight to get a good seat. But, we watched the action on the TV. My parents were the "be cozy at home" kind of celebrants as well, so we took in the parade from the comfort of our own den. And that was fine by me.
Though, secretly, I wouldn't mind seeing it in person sometime.
FishPapa and I opted out of television for many, many years so this wasn't a part of our traditions until recently. About three years ago we bought rabbit ears so we could watch Chiefs' football when we lived in Kansas City. That first New Year's Day with TV brought back so many wonderful memories! And how fun it was for the FishBoys that the 2007 parade featured Star Wars!
Since then we've upgraded to DirecTV and can now watch the Tournament of Roses fuzz-free and I'm able to share this little piece of my childhood with my kids.
Do you watch the Rose Parade or do you have a different regular New Year's Day entertainment?