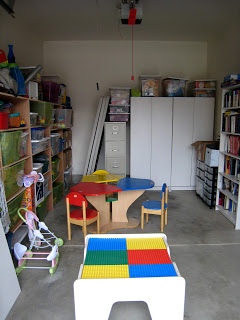 Yesterday I did something I was loathe to attempt: clean out my "toy and school garage." Long time readers, or at least those who've been reading since September, will remember that when we moved into this new house, we lost the school room and play room that we had in our last rental. So, we converted the single car garage into a storage area.
My brother treated it for bugs prior to moving everything in, and I am pleased to report that except for a spider or two, there weren't any creepy crawlies in there when I ventured in to establish order once and for all. I told you on Sunday I was going to attempt it and I actually did it! Yeah! I surprise even myself sometimes.
It feels so good. Now, there are 5 other closets that need to be put in order, but progress has been made. Let's all have a cookie!
In other news:
Ultimate Recipe Swap (starting Wednesday afternoon) will be your chance to share your Holiday Food Traditions, whether in recipe, story, or song.
There will be no Frugal Friday this week. But, it will return on New Year's Day. Be prepared to share your Financial Resolutions for 2010! I was doing some calculating today and boy do I need to find my gazelle! I've got big dreams for the next year.
Freezer Cooking Daze will return in February. In the meantime, Money Saving Mom and I are plotting another kitchen activity to help you save money. Stay tuned for more details.
Got a list going of all the books you'd like to read? Well, I've got a great plan to help you tackle it in the New Year. Start jotting down reading recommendations 'cause you're gonna want to play along when we "Book It" in 2010.