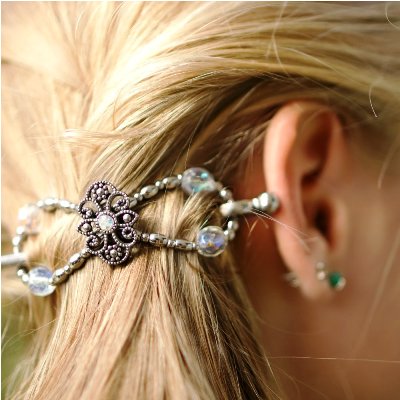 Springtime is here — and it's cause for celebration! The weather is warming up, the sun shines a little longer each day, and the days just say, "Come out and play." It's time to put your hair up and get out and about.
I was stunned when my friend Jen said that scrunchies were "out." What? Scrunchies? The soft little bit of fabric that I keep in my purse for that spur of the moment ponytail? Out? Kaput? Dated?
Say it ain't so, Jen.
But, Jen is the fashionista, and I am not. We'll leave it at that.
So, while I am clutching tightly to the scrunchies I just bought from Target in January, I am also conceding that there might be a better way. At least since I received hair clips from Caroline, a consultant for Lilla Rose.
Isn't this beautiful?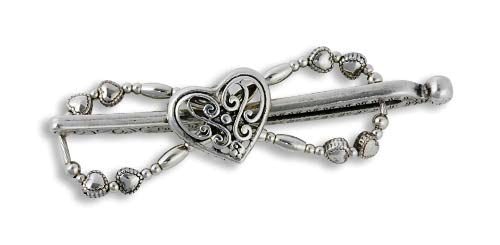 Not only are these clips absolutely gorgeous, but they are also very user-friendly. You don't need a degree in cosmetology to get your hair looking pretty with these clips. Though I will say that watching the video helps.
The video was super helpful in choosing the right clip in my hair, plus it gave me the confidence to try out different styles on my own.
I love the Lilla Rose clips. Not only are they pretty, but they are one piece, unlike other similar hair clips I've owned in the past which were two pieces, one of which was inevitably separated from its mate. The clips hold an amazing amount of hair and enable you to do a number of different styles on your hair, including a ponytail, completely eliminating your need for a scrunchie.
Wouldn't Jen be proud? 😉
This week three LifeasMOM readers will win a clip from Caroline and Lilla Rose.
To Enter:

Simply watch the quick styling video and then come back here and leave a comment telling us which hairstyle you like the best.

For an extra entry, "like" Caroline's Lilla Rose page on Facebook and come back and leave another comment telling me you did so.
This giveaway will be open until Sunday, April 3rd, 2011, at 8 pm PST. Winners will be chosen randomly and notified via email.

THIS GIVEAWAY IS NOW CLOSED. CONGRATS TO THE WINNERS: katiemur@, christinaburrell@, martyquilter@
They have been notified via email. If you think you are a winner and did not receive an email, please write me at jessica at lifeasmom dot com. You must respond within 48 hours in order to claim your prize.
This week we're Celebrating Spring. Don't forget to check back everyday for all sorts of fun giveaways and ideas to enjoy the changing of the seasons.
Disclosure: I received sample clips for review purposes. I was not compensated to publish positive comments. My opinions are my own.