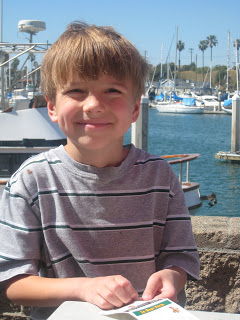 See this kid. He's one of the most hot blooded kids I know. He's constantly walking around without a shirt, no matter the weather.
Last week we headed down to the harbor to try some local fish and chips. It was sunny and 64 degrees along the coast. Nice, but not bake-in-the-sun weather. At least not for us normal people.
Yet, as soon as we got out of the car, FishBoy here started to strip. We made it clear to him that this wasn't allowed at restaurants.
"Restaurants," says the FishMama, "always have a sign that says, 'No shirt, no shoes, no service.'"
"That's right," concurs FishPapa. "You don't wear a shirt, you don't eat."
Now that we got that settled (and the child dressed), we head for some good ole' greasy, fried food. And see the sign right inside the door:
No shirt?
No shoes?
No problem.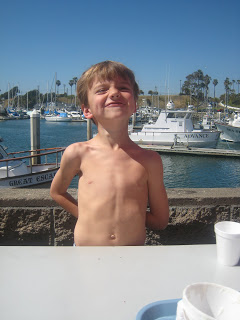 We must be in California.