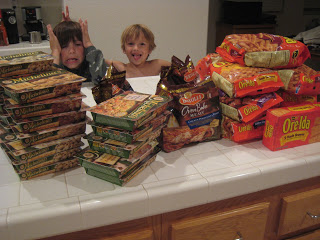 See this? See ALL this? This is all the great frozen food I stocked up on last week. I was so proud of myself for scoring some great deals — and easy school day lunches. This was actually a bragging photo I forgot to add to my Grocery Geek post.
Today I headed to grab a couple bags of the new Bertolli Oven Bakes for the kids' and my lunch. We've liked other Bertolli products, so I was looking forward to trying them.
However, I didn't feel a blast of cold air when I opened the freezer. Uh oh. I didn't hear the hum of the freezer. Uh oh. again. In fact, everything, except one bag of hashbrowns was completely thawed!
Yes, I cried.
And then I called my husband and cried some more.
Turns out the freezer was plugged into a GFI Outlet. Not a good thing. Don't ever plug something important into a GFI!
The boys helped me empty the contents into a large garbage bag, and we mourned it together. It was about $30 of food that should have lasted about a month interspersed amongst other things.
But, there is no use in crying over un-frozen food.