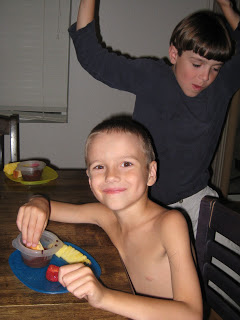 I have very fond memories of my childhood. Usually involving food. Obviously, I'm passing the same kind of memories on to my children. See? He's doing a happy dance over dessert.
Some of those foods from my childhood included Sara Lee products, two items in particular. When I was young, my family often served Sara Lee cheesecake and Sara Lee poundcake for dessert.
The convenience of a frozen dessert that she didn't have to do anything to was, for sure, a positive for my mom. "Open, slice, serve" was a welcome routine.
We kids just loved the tastes. We could never wait for the cheesecake to completely thaw, so it seems that we often indulged in icy sweets. Didn't faze us one bit.
Recently, I was able to revisit my childhood when Sara Lee graciously sent us several coupons for free dessert. I decided to explore the versatility of SL's classic poundcake.
I remember Mom serving it with Cool Whip and Strawberries. A simple strawberry shortcake is good enough for me — most of the time. But, I wanted to see what else we could do with it. I prepared:

Grilled Lemon Poundcake with Fresh Berries

Star-Spangled, Red, White, and Blue Cake Pops
This poundcake is truly a cake of all trades.
Some characteristics I love about it:
Its frozen state makes it super convenient. Believe it or not, it takes just a short time to thaw. It is easily sliced frozen and the frozen slices are ready to eat in just a few minutes. Or you can just eat them cold. We did.
The compact packaging makes it easy to store in the freezer.
The firm texture lends itself well to a number of different applications. We cut it into "fingers" to dip into chocolate fondue and carved it into the shape of a whale, for heaven's sake.
The taste is simple, but classic. It's a nice accompaniment to fresh fruit, whipped cream, and chocolate.
A few drawbacks:
the price – its regular price at my store was about $6 for a family size cake. Compared to a bakery made poundcake, this is probably a fair price, but not as economical as one you would bake yourself. But, I have seen coupons and sales, so if you time it right, you could easily purchase a poundcake for a few dollars.
The ingredients list is not quite as healthy as I would like. It does contain high fructose corn syrup, but since we don't make it a regular item on the menu, I'm okay with it.
What's been your experience with Sara Lee?
** Don't forget to enter for your chance to win a free dessert.