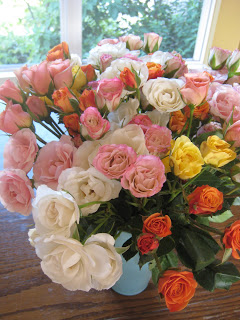 Whoever brings blessing will be enriched,
and one who waters will himself be watered.
— Proverbs 11:25
God's word promises that the one who "brings blessing will be enriched." As mothers we have ample opportunity to give, so it is such a reassurance to know that God sees what we do and that He does intend to water us, to enrich us. That encourages me to continue to "fight the good fight" in my home and for my family. And to seek ways to bring blessing to others.
Don't you love it when a friend surprises you with dinner? A thoughtful act of service? A small gift of flowers? Or a not so small gift of flowers? My college roomie sent me a huge bouquet of roses for my birthday. A large Pro-Flowers package arrived via UPS yesterday morning. Laura and I haven't talked in a year or two, but our friendship and our good memories still live on. It felt so sweet to be reminded of our fun times together many moons ago.
You know how fun it is to be blessed. And, I hazard a guess that you know the joy of surprising someone else. Read this story for new inspiration for blessing a friend.
How can you perform some not-so-random acts of kindness this week? Is there a friend (or a child) in your life who needs encouragement? How about fixing double your dinner and delivering one set to a friend? How about a quick run for smoothies? How about an impromptu offer of babysitting?
I'd love to hear your ideas and experiences. How have you been blessed? What are ways that you have or would like to bless others? Post them in the comments section and let's think of ways to brighten someone else's day.