Nothing is Forever
We are a participant in the Amazon Services LLC Associates Program, an affiliate advertising program designed to provide a means for us to earn fees by linking to Amazon.com and affiliated sites. We participate in other affiliate programs as well. For more details, please see our disclosure policy.
So this past week when I walked into my new-to-me, neighborhood Albertsons, I was taken back immediately to this day in my life: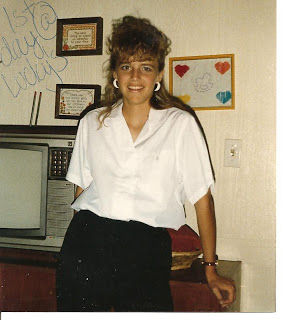 This Albertsons has the exact same floor plan as the store that I worked in when I was sixteen years old. Who knew when I was this "bag girl" so many years ago that I'd someday be a total grocery geek shopping to feed six kids and that I would become nostalgic over the layout of a grocery store?!
What was really trippy about the experience was that the shopping center had 80s music playing over the walkways. It was Wilson-Phillips from the same era as my earrings in that picture, singing that song, "Hold on" in which the listener is encouraged to persevere:
Don't you know things can change, Things'll go your way
If you hold on for one more day,
Anyway, it took me back to when I was 16 and how things just didn't seem to be the way I wanted them to be. I never envisioned this day as my answer. (Nor that I'd be gaining encouragement from an old chick band.) But, it is.
There are still things that I want to change (like the 50 boxes left to unpack), but things are going well, praise God.
There are moments when six kids all want something different and there's a pot boiling over, and the doorbell's ringing, and the dog's barking….
We don't actually have a dog, but you know, you have those Calgon days, too.
But, the morning was such a good reminder that these things don't last forever. Neither the hard things, nor the beautiful ones. It's good to hold on when things are tough, and it's even better to savor them when they're not.
Therefore be careful how you walk, not as unwise men but as wise,
making the most of your time, because the days are evil.
— Ephesians 5:15&16
How will you enjoy the good things today?