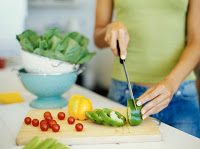 It is finished.
And I am so glad. Not only do I have a freezer full of meals freeing me from cooking, but I also don't have to do a lot of shopping over the next 4-5 weeks. Yeah!
Don't get me wrong. I love to shop. Especially groceries. After all, I am the Grocery Geek.
But, sometimes it's just hard to say NO. Since I've spent the bulk of my food budget for the month, it's better to stay out of the stores. And you know what? The deals at my local grocery stores aren't that great this week, anyway. Great time to take a break.
I am sure I'll be spouting off some more about the benefits of Once-A-Month Cooking over the coming weeks as I put my feet up and enjoy several weeks' off from cooking.
Here is what's on hold in my deep freeze:
3 Black Bean Lasagnas (recipe to follow)
3 Black Bean Pies
4 dinner portions of Taco Soup
5 dinner portions of meatballs
8 containers of pasta sauce
2 pans of Italian sausages and sauce
3 pans of Lawnmower Taco
3 Meat, Cheese, and Spinach Lasagna
3 pans of Curried Chicken and Broccoli Casserole
3 pans of Chicken Enchilada Casserole
3 meals of Chicken Packets
This totals about 40 meals! (depending on if I use the pasta sauce with the meatballs or not.) Considering leftovers, eating out on occasion, and BBQing, I would say that the next 5-6 weeks are covered. Hallelujah!