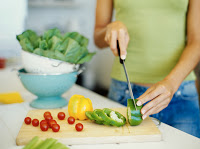 Today was fairly mellow since I had a dr's appt in the morning and swim lessons/playday in the afternoon. I tried not to sweat it, both in and out of the kitchen.
But, I did accomplish a few things for my OAMC bash:
* three lasagnas with meat, cheese, and spinach are in the freezer. (Shh…don't tell the kids it's spinach. I also put fresh basil in there, so I can say it's herbs.)
* 90 meatballs mixed, formed, and baked
* 12 pounds of chicken baked and ready to be made into 9 dinners tomorrow morning.
Time invested: about 2.5 hours
PS. Wish that skinny bod in the picture was mine. But, lo, it's not. While I've only gained 18 pounds, baby is measuring 35 cm, 2 cm ahead of schedule. Another Amazon FishBaby in the making. (The others were 9#2, 8#11, 9#11, 9#5, and 9#4.)