I mentioned before that I'm getting ready for a two-day cooking bash so that when FishChick arrives, my freezer is full and I can put my feet up. Phase 1A consists of cleaning, organizing, and inventorying the pantry and freezers. I took care of the pantry and the refrig/freezer over the weekend.
Well, the pantry was easy compared with the refrigerator and freezer. In part it was because I really did not want to tackle them. They were such a mess!
But, the internet can provide great accountability. If I tell you I will do it, then my pride mandates that I have to. (I trust y'all will give me a good talking to if I go over budget next week.)
Here's what it looked like before I took everything out, scrubbed every shelf and drawer and wiped down the walls. (That's my lovely assistant, Vanna White.)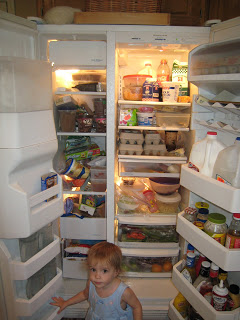 Here it is after.
In retrospect I would say that cleaning out the frig and freezer can save you money, especially if you do it on a regular basis.
You find all sorts of things that are about to expire so you have got to eat them up or know that you've been wasteful. How will I sleep at night knowing that the great deals I got on yogurt and lunch meat went out in the garbage?
When you do have to chuck things, you will be overcome by guilt, which will hopefully be of the healthy variety that will encourage you make better use of your resources in the future.
I found a fair amount of things that I didn't really know I had, like hamburger buns and ground beef. So I've got a few meals to work into next week when I tackle OAMC Phase 1B.
I'm holding off on the big freezer in the garage until I can empty the kitchen freezer a little more. As hot as it is here, I'd like a better holding place than a cooler for what survives the freezer cleaning.
If you're looking for some guidance in putting order to your icebox, check out these related links:
Martha Stewart – Tips for Cleaning Large Appliances
How to Thoroughly Clean Your Refrigerator and Freezer
Fridge Organization from Rocks in My Dryer