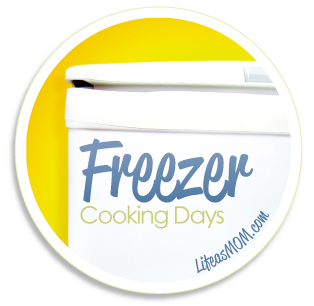 At the end of last week I found that I had accumulated a lot of food. Fellow grocery geeks will remember the co-op haul that I brought home. Talk about being rich in rice cakes!
Then, because we were out of dairy, I ran to Costco to get milk and cheese on Saturday morning. Yes, crazy on more than one count. One thing led to another and before I knew it, my refrigerator was bursting from the seams.
Apparently, it's time to cook for the freezer, me thinks.
I really didn't want to put uncooked foods in the freezer, though I totally could have done that. I wanted things to be easier on the other side. So, I got to work.
Here was my plan of attack: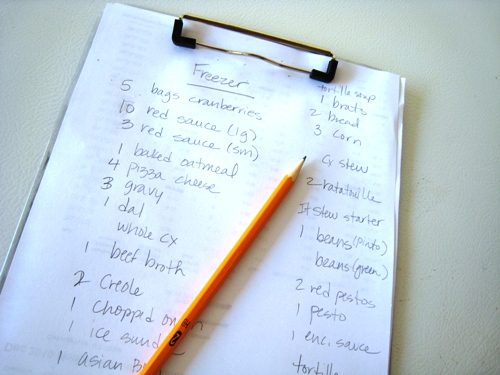 1. Inventory the freezer.
I am really bad about keeping track of what we already have in the freezer. Every once in awhile I go dig it all out — and find such great treasure. Look at all this! Apparently, I don't need to make red sauce anytime soon.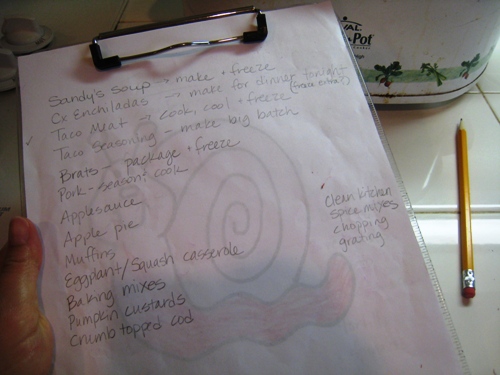 2. Develop a cooking plan.
Next, I made up a list of the meals to prepare, based on what I already had in the fridge and cupboard. (Note the clever use of recycled artwork. I'm so fancy.)
My plan:

Aunt Sandy's Broccoli and Cauliflower Soup
Chicken Enchiladas
Brats to repackage from a bulk package
Eggplant-Squash Casserole
Pumpkin custards
Crumb-topped cod kits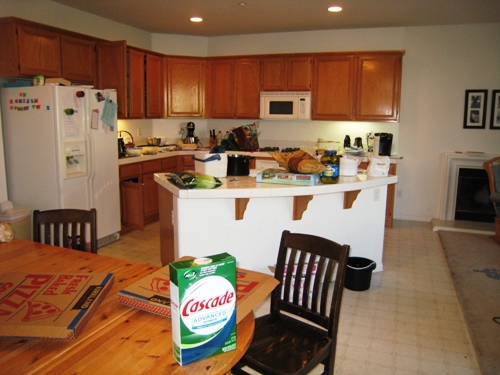 3. Clean the kitchen.
Since I had just gotten home from Costco, evidence of such was everywhere. I know from experience that starting a cooking session with a clean kitchen makes the process so much more enjoyable.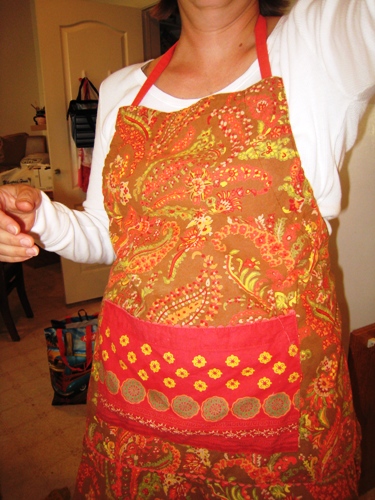 4. Don the apron and get cooking.
I cook better with an apron. I worry less about my clothes which helps me relax more, and therefore, enjoy my cooking.
The weekend was not without it's excitement. I'll tell you more on Monday. Share your cooking plan below and be sure to come back on Monday to see my progress and to share yours. For more information about freezer cooking days, go here.
What's your cooking plan?