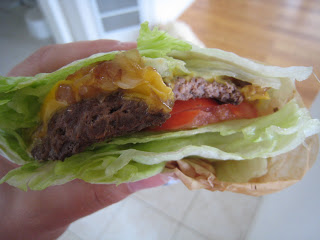 If you live somewhere other than California, Arizona, or Nevada, and have never eaten a Double-Double, I'm sorry. You're so missing out. Get thee on a road trip and make sure you stop at In-N-Out Burger.
It's one of the fast food joints that I missed the most when we were in Kansas. And, yes, I tried Sonic, Hardees, Culvers, BackYard Burger, and even Winsteads. But, none of them can even compare. None.
In-N-Out is privately owned, no franchises, and they make everything fresh. You can even watch them chop potatoes into fries through the window. It continually ranks as my #1 choice of where we'll eat if we're getting fast food.
After a week of counting calories, this weekend I was ready to crack and just go for a double cheeseburger with grilled onions. I'm trying to make my carbs count, so that means no processed wheat. Hmmm… But, then I remembered that INO will make it "protein style." That means without the bun. They wrap it well in several leaves of lettuce so you can still pick it up and eat it. It wasn't exactly the same, but it was good. Oh my. Yes, sirree.
Try it, you'll like it. Promise.
This message was brought to you by my stomach.