Oh My! The Bobsy Twins Triplets
We are a participant in the Amazon Services LLC Associates Program, an affiliate advertising program designed to provide a means for us to earn fees by linking to Amazon.com and affiliated sites. We participate in other affiliate programs as well. For more details, please see our disclosure policy.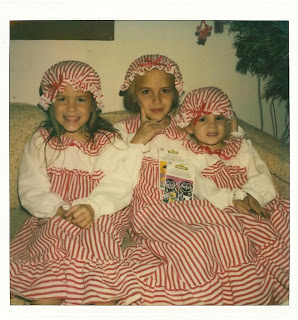 My sisters are 3 and 5 years younger than me. And since we were the first three children (in a family of five), we often dressed alike – whether or not we wanted to.
Until I was twelve.
And then I was enlightened by a fellow classmate that this "just wasn't done" in the sixth grade. I quickly ditched any thought of wearing the same blouse or dress as my sisters. Even to the point of changing if someone had put on a matching outfit.
My younger sister has wonderful memories of being like her older sisters. But, I remember the snide remarks of a classmate, "Is your sister wearing that?"
There were other drawbacks to matching clothes besides the mocking of my peers. When we received gifts, I usually insisted that the others not show me what they got because then I would know what was in my present without even opening it. Our gifts from grandparents and aunties were usually the same thing, perhaps in a different color, if we were lucky.
Now, as a mom of four boys and two girls, I confess that I've been guilty of dressing them to match. (It can be so cute!) And there are some benefits to matching clothes, the chief of them being it's easy to spot them all in a crowd.
But, for the most part, each of the older ones (the boys) gets to choose his own clothes. I want them to have some freedoms, particularly in what they wear. And surprisingly, they often choose to match anyway, particularly for FBA functions. There's no stigma to this practice and they are free to do what they want. That is so refreshing!
What do you do in your family? And how do your kids feel about it?