Old Acquaintance Not Forgot
We are a participant in the Amazon Services LLC Associates Program, an affiliate advertising program designed to provide a means for us to earn fees by linking to Amazon.com and affiliated sites. We participate in other affiliate programs as well. For more details, please see our disclosure policy.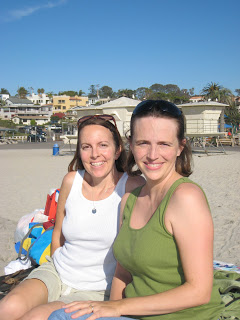 Jessika and Jessica, December 08
One of the beautiful things about moving back to Southern California has been the opportunity to reunite with old friends. Seeing familiar faces after five years away just warms my heart!
And it reminds me of when I was young and svelte.
Over the past few months we've gotten to hang out with Devin and Jessika and their two children on a couple occasions. We knew Devin and Jessika back in the days before children. They came to see us in the hospital with FishBoy11, hosted a baby shower in our honor, brought us dinner, babysat, etc. etc. They are great friends! And they love us as much as family. Jessika and I are even going to a MOMs conference next month while the men ride solo. Details forthcoming!
Then we got to visit with Jodie and Andrew. They played the music in our wedding many moons ago. We had our first babies just days apart from each other. This is the first time in a long time that we've lived in the same state as they've been to Chicago and Hershey and back, while we travelled to Kansas City. The other night, our ten children ran rampant through the house while the moms chatted and the dads watched football. Fun, fun, fun.
And last weekend we saw "my oldest friend in the world" and her family. Stephanie and I have known each other since third grade. So neat to maintain contact this long. And we still love each other's company.
I am so thankful for old friends. God has richly blessed us!
For a glimpse at how God is working in others' lives, visit Gratituesday.