CONGRATS to Sue D!
The fun never ends around here. Giveaways galore this week: Frito-Lay Party Pack, Family Feasts for $75/Week, a super cute apron from D-Lux 57, and now Omaha Steaks!
(And I'm not done for the week yet!)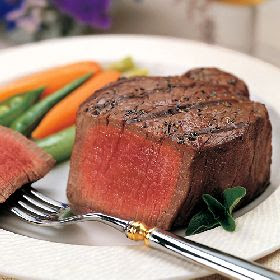 Photo source: Omaha Steaks
I had never ordered from Omaha Steaks before, but I'd heard great things about them. When they offered to send us some filet mignons to try, I didn't want to pass it up. Steak is one of my favorite meals. The FishKids', too.
Last night we served up a mixed grill of chicken and steak with mashed potatoes, green beans, salad, and corn bread. Super yummy. FishChick3 kept asking for more steak. She loved it. I must say, the meat was super tender; you could cut it with a table knife. I enjoyed every bite. The Fisher-men were "okay" with it. Though they appreciated the tenderness, they prefer the flavor of tri-tip more. I'll give them that. Tri-tip does have a richer flavor than filet mignon.
When Omaha Steaks are shipped, they are packed frozen with dry ice to keep them cool and packaged in a thick styrofoam cooler. Ours arrived super cold, not one bit thawed. You can pop the vacuum packed steaks into the freezer until ready to serve. Then, defrost them overnight in the refrigerator or put them in a pan of cold water for quicker thawing.
I realize that ordering steaks online is probably a luxury for most people. It certainly is for us. I normally buy my meat at the grocery store when it's on sale. But, if I wanted to send a fancy gift to someone, I would certainly consider this option. I don't believe there's anything wrong with spending money on something if you've actually got the money to spend. Plus, over the past year, there have been good sales and coupon codes to match up with cash back sites. Ebates is currently offering 6% back while ShopAtHome is giving 7% back on each order.
Omaha Steaks is offering a $50 gift certificate to one LifeasMOM reader. I was surprised at how much is available for under $50. Pop over there and see what looks yummy.
Then come back and enter the giveaway. Leave a comment telling us what you'd pick if you won.
Contest will be open until Sunday night, December 20th at 8 pm, PST. Winner will be chosen randomly. Please make sure I have a way to contact you if you win, such as an email address in your comment.
Disclosure: I received a sample box of steaks to taste and give my unbiased opinion.