Once a month meal planning is a great way to make good use of your pantry and freezer's resources as well as make sure that dinner gets on the table in short order.
Today is a new day. A new year. A fresh start in a myriad of ways. A time to dream some big dreams.
For me, part of a fresh start is feeling like my head is on straight. Feeling like I haven't messed up (too badly) yet. Feeling like I have a plan to make something good happen.
I think people must have this wild illusion about me that everything's in order and everything's planned. That is so not the case. Please don't worry that I micromanage my life. Spontaneity comes in the front door as soon as my plan flies out the window.
Which is more often than I care to admit.
That said, I love to plan. Planning helps me come close to feeling like I'm in step with the present and not trailing woefully behind. You know the feeling?
And never do I feel more behind than when my family is hungry, the sun has set, and dinner is nowhere near ready to serve. Meal planning helps me avoid that feeling. And planning for the month helps me even more because I save little minutes throughout the month.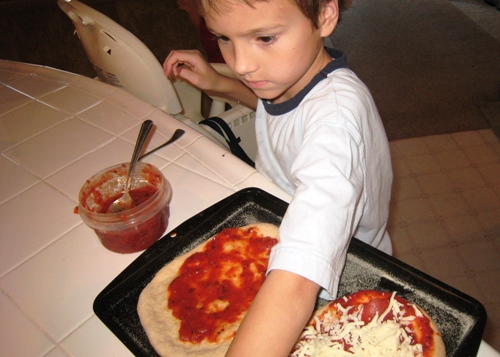 Meal planning is not difficult. Even a wimp can do it. And once a month meal planning is not too complicated either.
Here's how to plan a month's worth of meals:

Print out a calendar for the month. (There are several to choose from in here.)
Fill in any special occasions like birthdays, anniversaries, or other events where you'll be eating elsewhere or planning a special meal.
Fill in the weekly regulars that you might serve. For us, that means soup on Tuesday and pizza on Friday.
Survey your cupboard, refrigerator, and freezer for the makings of more meals. Jot down a list of the meals that come to mind. Plug these into your calendar, spreading out like dishes throughout the month.
Consult the grocery sales flyer and determine which items you might pick up the store this week and plot those meals into the calendar.
Got blanks? Consider serving breakfast for dinner, offering leftovers one night a week, or planning a quick take-out night.
Remember life is subject to change. The meal plan is to help you, not be master over you. Feel free to go with the groove of the day when it veers from the meal plan.
See? That wasn't hard, was it? Once a month meal planning doesn't take a lot more time than weekly meal planning and it helps you get your head on straight.
Hop on over to Good Cheap Eats where I'm sharing my meal plan for the month as well as details on a pantry challenge. Dozens of readers are joining in.
We're challenging ourselves to use the resources we have in house and lower our grocery bills as we're able. There are no rules, except for the ones you make for yourself.
How do YOU plan for mealtimes at your house?