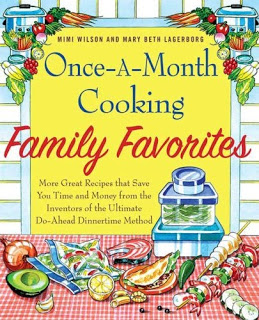 Years ago, like six kids ago, I heard a program on Focus on the Family about these two ladies who did all their cooking for the month in just a few days. I was dumb-founded. I was a high school teacher at the time and though I loved to cook, I knew that my minutes were few and precious. As a newlywed, well into our sophomore year of marriage, anyway, I wanted to spend time with my husband when I wasn't grading papers, not slaving in the kitchen. Add to that the fact that we were expecting our first baby and the idea of a freezer full of food was extremely appealing.
I bought the book, read it cover to cover, marked it all up, and convinced my friend Jessika that she wanted to do it with me. She was a newlywed herself and so we spent a couple days, shopping, prepping and cooking the Once a Month Cooking way. Though there were a few recipes that got the thumbs' down from the husbands, it was a success. Over the years I've adapted the method and brought myself some great relief come dinner prepping time by filling our freezer with premade meals. And Jessika and I, though we don't live close enough for three day marathon cooking bashes, still trade freezer-friendly recipes.
So, I jumped at the opportunity when I was asked to review the newest book by the mothers of Once a Month Cooking. The new book, entitled Once A Month Cooking Family Favorites by Mary Beth Lagerborg and Mimi Wilson is an updated sister of the first book. With new recipes, some new cooking methods, and some new recipes, it is a great resource for someone just learning the method or who simply wants to test out some different  menus. The book explains the concepts behind OAMC as well as offers comprehensive shopping lists, recipes, and tips to maximizing your time.
Having had some experience with the original book, I was interested to see how the authors had changed their recommendations over the years. Keep in mind that I have changed as well, as have my spending habits.
What I found in this new tome was a pleasant surprise. I consider myself a food snob foodie, and I am excited to try many of the recipes in this book. Things like Chicken Durango and Pozole Soup will be entering our meal plan in the very near future. I love that they've introduced a whole bundle of crock-pot friendly recipes. Usually, I've used my crockpot for OAMC, but before the freezing step. They have you do it in reverse, packaging meat, veggies, and spices in a bag to be dumped into the slow cooker on the day of serving. This is something I'm eager to try and have already prepped some pork roasts this week following this manner. Those who eat gluten-free will be pleased to know that there is a special section in the book with a two-week menu plan with this diet in mind.
Not sure you want to go for the gusto and cook up a storm? Check out Once-A-Month Cooking online and get details as well as a free one-week cooking cycle.
The overriding theme that I see in this cookbook is providing convenience for the busy family. Unfortunately, convenience costs money. There are some shortcuts recommended in Once A Month Cooking Family Favorites that may or may not help you, depending on your financial situation. While OAMC has always saved me money, even paying full pop on groceries, I still prefer to cut as many costs as I can.
Here's an example: rotisserie chickens are recommended as a main ingredient rather than a whole chicken that you would cook yourself. I remember doing the latter many moons ago when Jessika and I first went through the method. It wasn't super fun, but it was the frugal way to go. While the rotisserie chicken is certainly easier, it's at least twice as much money as roasting a chicken yourself. So, as you go through this book, which I recommend that you do, keep in mind ways that you can adapt their recommendations to fit your specific situation.
There is no "one right way" to OAMC. The purpose of this do-ahead cooking method is to free you up in terms of time and hopefully to save you money in the kitchen. So be bold and adjust things to suit your life, your eating habits, and your wallet. Regardless, this book would be an asset to any home cook.
What do YOU wish you knew about freezer cooking?
This post contains affiliate links. When you make a purchase through those links, I am paid a small amount in advertising fees. Thanks for your support. I really appreciate it.