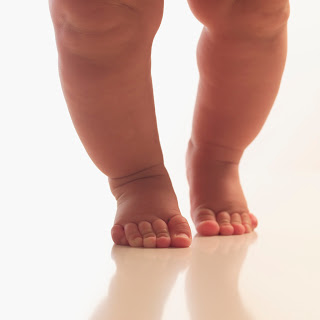 Update, 1/13/09: This giveaway is now closed. Winner to be announced Wednesday morning. Thanks for playing.
Last week a friend sent us the most adorable outfit for the FishBaby: cute frilly jeans and a pink, long sleeved onesie, both with precious embroidery. So cute! I know she'll probably only get to wear it for a few months — but still, she'll be beautiful, dahling. (Thanks, Suzanne!)
'Tis true, baby gifts can make us go ga-ga, can't they? And, yet it can be tough to think of a present that is creative, functional, and frugal all in one package. If you're in need of a gift along those lines, consider one of the following:
For baby:
** When Baby has an older sibling of the same sex, new clothes aren't necessarily needed. But, it's so fun to get a clean, fresh, unstained outfit. (like above)
** Diapers and wipes, especially if you can get them on sale, never go out of style. Inquire if they have a favorite brand and try to get that if you can.
** A collection of board books is a wonderful start to any child's library.
For the whole family:
** A hot meal to eat the night you bring it and a second meal to pop in the freezer for another night.
** Sometimes when there are picky eaters in the family, receiving a "gift meal" can be more work for the parents than if they had cooked themselves. If you have an inkling that that may be the case, know that a gift card to their favorite restaurant would be greatly appreciated.
For Mom:
** Once Dad goes back to work, Mom could still benefit from a bundle of goodies. A basket of lunch items and snacks keeps Mom nourished and focused on resting and cuddling her new little one. Bottled water and juices, whole grain crackers, granola bars, and fresh fruit would be very welcome.
** A new blouse or jammies can brighten a tired BIG Mama wardrobe.
For all you baby gifters, I've got a treat. Spunky Sprout is offering a great gift as a giveaway to one LifeasMOM reader. One reader will win the Niki Receiving Blanket.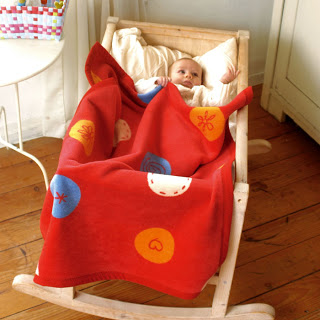 About their website:
Filled with fresh, new and up-to-the-minute home furnishings, toys, clothes and accessories for your sprout, SPUNKYSPROUT.COM features enlightened décor and an aesthetic that will appeal to discerning parents everywhere looking for modern, hip and trendy kid products.
For the month of January you can also receive 10% off any purchase. Just use the code LIFEASMOM10.
How can you win this cozy blanket? Share in the comments your favorite baby gift to give or get!
Contest is open until Monday night at midnight PST. Winner will be chosen by random.org and announced Tuesday morning.