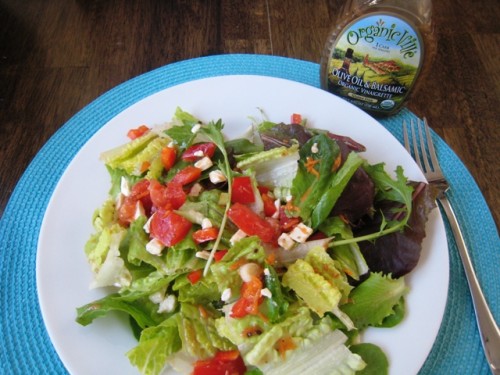 Salads are one of my favorite parts of summer. They're cool, refreshing, and make good use of the season's best produce. And in case you didn't know, the dressing can make or break the salad.
While I prefer to make my own dressing, I am not opposed to having a bottle or two of vinaigrette on hand for those nights when I am just too lazy to whisk.
Recently, we had a chance to taste Olive Oil and Balsamic Dressing from Organicville Foods. One of the distinctives of Organicville products, besides being organic, is that they use natural sweeteners like agave nectar instead of the high fructose corn syrup that is in so many bottled brands.
This dressing was still a little too sweet for many in my family, but I loved it on salads and pastas. We also received a bottle of organic mustard which has prompted quite the discussion of mustard, how it's grown, and how it's prepared. My kids are such omnivores! Love that!
I love the mission of Organicville:
As processed food chemicals and high-sugar additives plague the grocery store aisles across the U.S., Organicville, the makers of USDA certified organic, vegan and gluten-free mustard, salad dressing , ketchup barbeque and teriyaki sauce and salsas sweetened with agave nectar, has created gourmet solutions for a healthier, more environmentally focused lifestyle – including products that are safe for those with special dietary concerns, and tasty enough for all.

Founded by Rachel Kruse, a 33 year-old entrepreneur, third-generation vegetarian and organic consumer, she turned to creating delicious, healthy products to offer a better alternative to sugars, preservatives and processed foods – as growing up, she couldn't find organic dressings and condiments that tasted great. The goal: to enjoy a great tasting organic product without having to sacrifice flavor or quality.
I would agree that the flavor is there —
Wanna win some?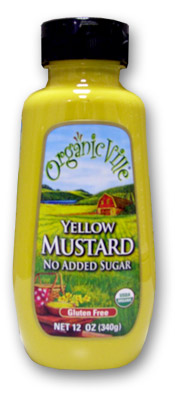 Three winners will each receive:
Organicville Ketchup
Organicville Mustard of their choice
Organicville Vinaigrette of their choice
To enter, simply leave a comment on this post, telling us your favorite way to dress a salad.
Contest will be open until 8pm PST on Sunday, June 27, 2010. Winners to be chosen at random and notified via email. You have 48 hours after email is sent to respond, otherwise you forfeit your prize.
Disclosure:  Organicville Foods provided me with product samples to review. I was not compensated in any way for reviewing this product or offering this giveaway, nor was I required to do so. My opinions are my own. For more information, please see my disclosure policy.