Organize the Laundry Space
As an Amazon Associate I earn from qualifying purchases. For more details, please see our disclosure policy.
This month I took time to organize the laundry space. It makes it so much easier and more efficient to do laundry now that it's shipshape.
Taking the time to organize the laundry space almost always proves to be worth the investment. Not only do I create a pretty work place, but I also find that I'm able to get rid of stuff and troubleshoot how we do things around here. With a full household of eight people making dirty laundry every day, it's a win every single time.
Recently I realized that while towels get washed and dried every week, they often sit in a pile outside the laundry room door — where all the clothes used to be until I overhauled that and got my kids to do their own laundry. One new thing that is happening this month is figuring out a better system for getting towels not only washed and dried, but also folded and put away. Ahem.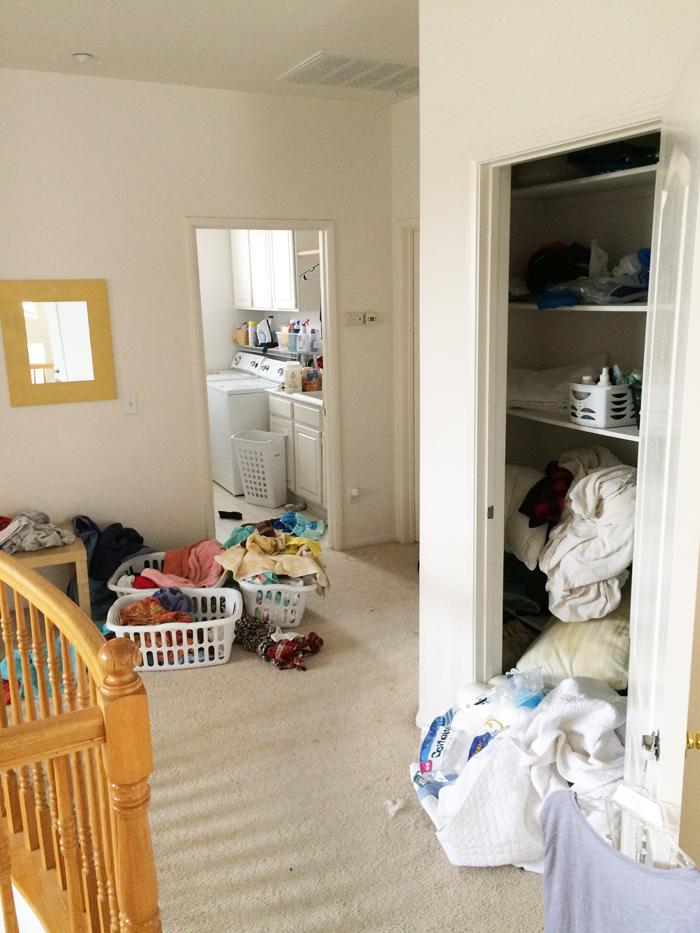 This is what my laundry space looked like a week ago. Everything was spilling out of the linen closet and the aforementioned piles of towels were waiting outside the laundry room.
Time to organize the laundry space? Yes, I think so.
Organize the Laundry Space
Last month, we discussed the assignment of organizing the linens and laundry space. It's part of our Zone Defense Challenge for the year. It's really up to you how you go about each month's assignment. For my part, I focused on our upstairs laundry space which includes a linen cupboard in the hallway as well as the laundry room.
I had no idea at the start of the month that we would end up replacing our washer and dryer, but we did! It's kinda funny how so far this year each room of this Zone Defense Challenge has seen some major change. Our master bathroom was remodeled, our kitchen was completely emptied due to a fumigation, and now, the washer-dryer combo gets switched out.
In 22 years of marriage, we've purchased three laundry sets. The first house we bought came with an old mismatched set, so it wasn't until we moved to Kansas that we bought one. That set lasted five years and our bringing home three babies. We figure the way we do laundry, it was ten years old.
We bought the second set in 2010. It lasted six years — that's 12 in big family years. It was still technically "working" but the washer was doing some funny stuff and the dryer took three hours to dry anything. And yes, FishPapa did try to repair them first. Since neither were Energy Star rated, we decided it would probably pay off in gas, electricity, and water if we upgraded.
FishPapa did the research, read a ton of reviews, and checked out everyone's warranties and return policies. We ended up buying a Samsung set with AquaJet and Steam Sensors from BestBuy. There's a 15-day return policy and so far in 7 days we've probably done 15 loads to test everything out.
So far everything seems to be working really well. They are quieter than our previous machines and hold a ton more! Oh my word.
As you know, the kids do their own laundry around here, one room/two kids per day. Each pair of roommates usually does two loads of clothes a week. We combine sheets into two loads on Fridays. These machines are so big, the kids only have to do one load of clothes, and we were able to combine all the sheets into one. Crazy!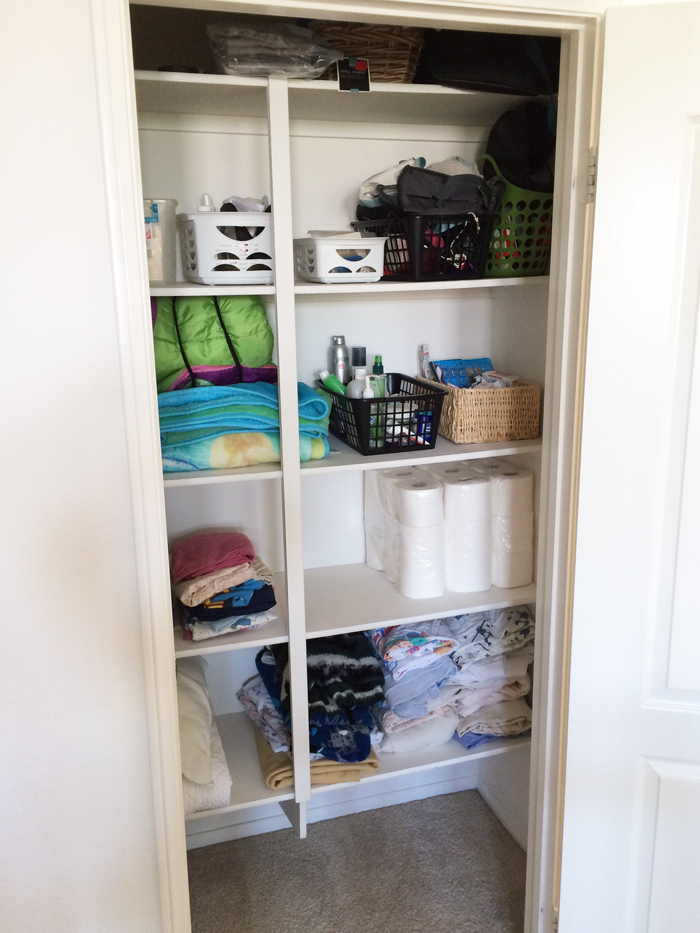 In anticipation of getting R2 and BB8 delivered last week, I did what I was supposed to do this month anyway: clean out the laundry room and linen closet.
Here's what I ended up doing on Zone Defense this month:
emptied out the linen closet.
refolded all the bedding that seems to have fallen off the shelves.
sorted through the travel supplies and toiletries that are also stored in the linen closet.
found a full box of size 3 girl clothes. (How did that happen?!)
reduced the massive piles of cleaning rags.
hauled away four bags and boxes of discards
swept and mopped the laundry room floor.
It's so nice to do laundry now! Not only can I count on the clothes actually being dry, but there's a lot more space to put things away in the cupboards. Yay for organized laundry spaces!
Tips to Organize the Laundry Space
A No-Fuss Guide to Laundry Tools & Products
Let's Get Organized!
Zone Defense is a year-long "game plan to organize your home" that I designed four years ago. Zone Defense is divided into "zones". We'll be working from area to area, dejunking, reorganizing, and otherwise bring order to chaos.
Here's the breakdown for the year:

February: Personal Space

March: The Kitchen

April: Clothes, Linens, and Laundry (this post)

May: Living Spaces, Entertainment

June: Transportation and Travel

July: Kids Stuff

August: Bathrooms

September: Emergency Preparedness

October: Outdoors

November: Office and Paper

December: Deep Storage
If you're someone who likes to jump ahead or do things out of order, no worries! My ebook, Zone Defense, will be ready soon. Stay tuned for more details!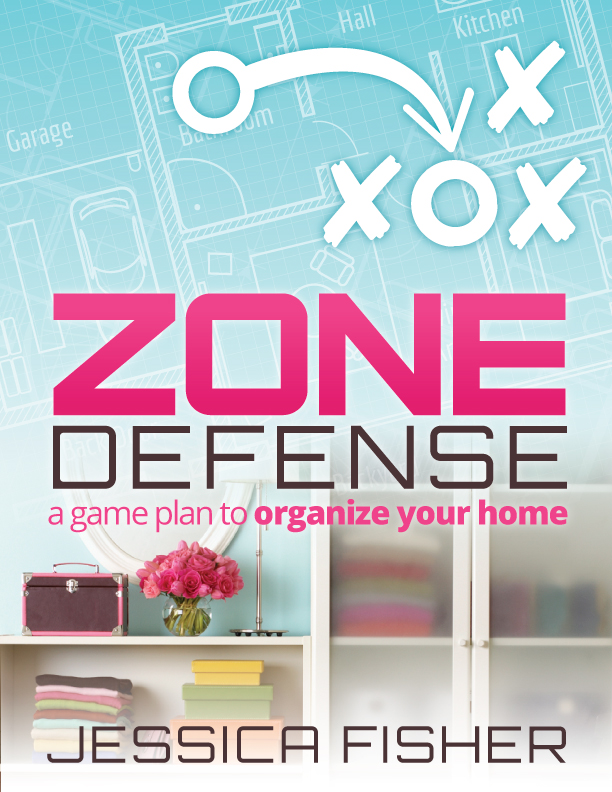 Ready to Get Organized with Zone Defense?
Here's what you can do now:
Download these worksheets so you can gather your thoughts about where your home really needs work.
Clean out your laundry room.
This month's assignments involves the living spaces. Don't feel like you need to play catch up. Just start where we are. Eventually, we'll cycle back around to the areas you missed.
June: Organizing Living Spaces
You get to decide what this is for you. At our house, I'll be turning my attention to our school room, library, and entryway. These are spaces that get the most cluttered. With the end of the school year approaching, now's the perfect time to get them organized.
I'll be sorting through ALL THE BOOKS, putting away this year's school stuff, getting out next year's, filing the kids' paperwork, discarding books and curriculum we no longer use, sorting through the junk drawers, and reorganizing the foyer closet. I'm tired thinking about it, but I know it will be good to put order into those spaces.
What did YOU do to organize the laundry space this month?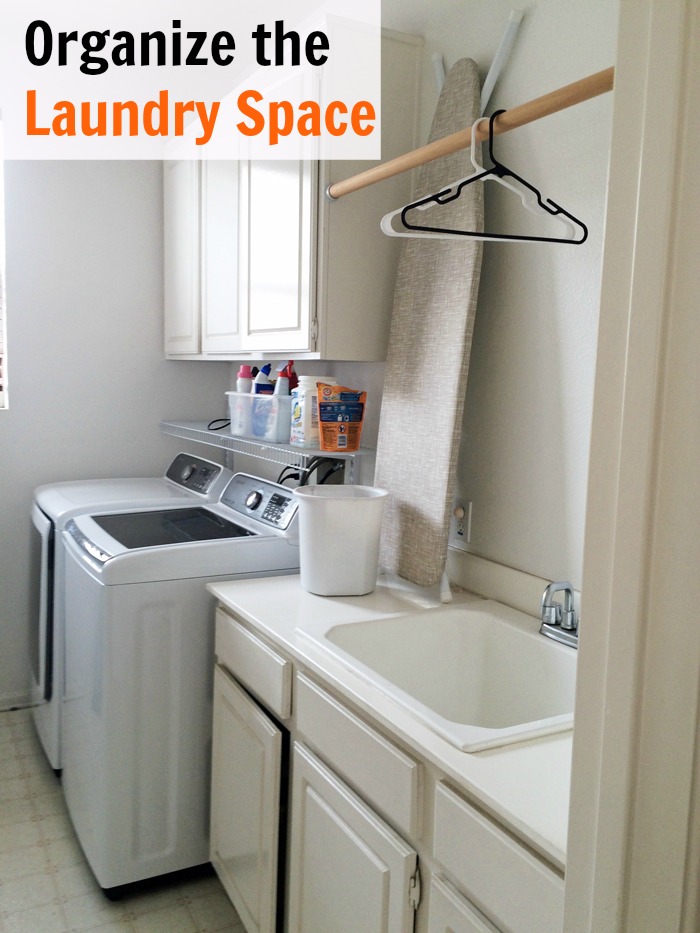 Want to get your act a little more together? Get a copy of my free ebook: Organization for Normal People here.