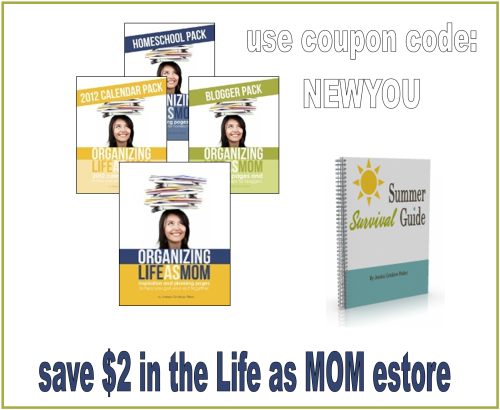 Hey folks!
It's organizing time. Out with the old, in with the new, and all that jazz. I love this time of year! It's like a big beautiful Do Over! Over the next week we're going to be talking about big dreams and plans as well as how to organize a little better in the new year.
Many of you commented on my recent survey that you struggle the most with clutter and organization. Time management was a close second. I hear ya, sister! Right there with ya, actually.
Some of the ways that I've tackled those two areas are encapsulated in two of my most popular ebooks: Organizing Life as MOM and the Summer Survival Guide. For the next week, I'm offering a $2 coupon good for either of these books. Coupon is good on purchases of $8 or more.
Just use the coupon code: NEWYOU when you make your purchase in order to get the discount.
This coupon code will expire at 8 pm PST on January 8, 2012.