Organizing Books & Other Kid Stuff (Zone Defense)
As an Amazon Associate I earn from qualifying purchases. For more details, please see our disclosure policy.
Organizing kids books was one of my Zone Defense accomplishments this month. I'm so glad I know what we have now.
This post does contain an affiliate link. If you make a purchase through that link, I may receive a small financial compensation.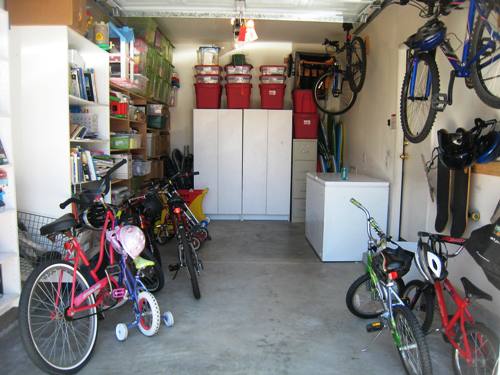 Once again FishPapa saved my bacon when it came to Zone Defense. Last month he took care of all kinds of car repair and care. This month, he tackled the Toy Garage, where we store all the kids' books, toys, bikes, and other fun stuff.
God bless him.
I didn't know that he was going in, otherwise I would have covered him. Or at least taken a "before" picture of the huge mess. Anyway, here's the "after" job. In the end, he even dug out my bike – the pink one on the left. The girls and I rode around the neighborhood together afterward. So sweet.
The next day, I went out to tackle this: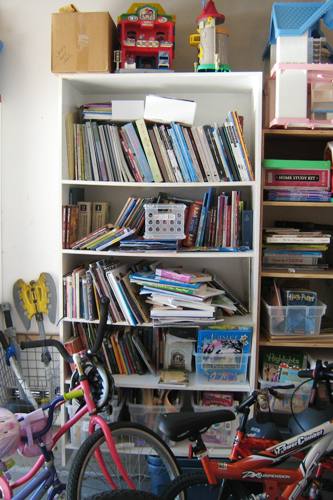 This is our long term storage for books, mostly school books, but also fun reading. I was tempted to just straighten it all up and call it good. But, then I remembered my own rules about emptying everything, ditching the junk, and then putting it back in order.
So, the girls helped me empty the shelves and I started sorting books. I found all kinds of school books that I forgot we had!
While I was sorting, one thing led to another. I remembered a friend had told me about an app that would keep track of your books. I searched through the apps and landed on BookBuddy Pro, which allows you to scan the barcode on each book and automatically creates a database of titles.
Since I have bought the same book twice before for school, I'm looking forward to using this app since I'll have an easier way of tracking what books I have and not buying ones that I already have.
I tried the free version first, but it's limited to how many books you can list in the catalog, so I upgraded. Not all the books we own were new enough to scan easily. Older barcodes or books without barcodes can be added manually or though an online search function.
Clearly, this part of organizing the book shelves took a bit longer than just straightening the volumes. But, I know it will pay off in the long run.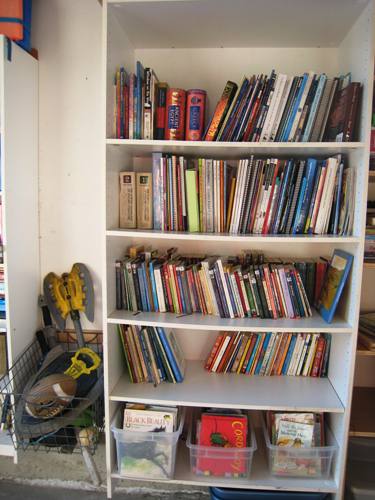 While I was at it, I discarded books we don't need or use as well as duplicates. I'm really looking forward to using BookBuddy, especially with my budding readers. So often they tell me they're out of books to read, but now they can scroll through our catalog and find books they didn't know we had.
Not only is the Toy Garage cleaned up, but the book shelves are straightened and organized. Yay!
How did YOUR Zone Defense go this month?
Disclosure: This post contains an iTunes affiliate link. If you make a purchase through that link, I receive a small monetary compensation.