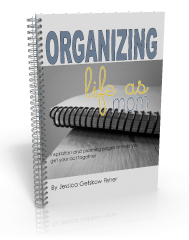 A couple weeks ago I shared with you my new baby. It was a project I'd been working steadily on for the month of October, and one that I had been planning and thinking about for the last year or so.
A household notebook manual, designed just for moms like you and me.
Organizing Life as MOM
This 125 page book provides a game plan for your life as wife, mother, and homemaker.
Not only is it full of ideas and inspiration to help you get your act together, but 90+ printable pages are designed to help you make a household notebook that fits you, your life, your family.
The thing that sets this book apart from others (besides being 125 pages long!) is that 80+ pages have fillable fields. That means you can click on a form and type in your priorities, your cleaning tasks, your meal plans and then save locally or print. Bind the pages in a household notebook, slip them in a binder, hang them on a clipboard — make them work for you.
Thank you!
Thank you to those of you who snatched it up immediately. How fun to see that this book is filling a need. And an extra special thank you to those who wrote with download questions. SO glad we were able to work out those fine details. Computers can be tricky!
What's Inside
If you purchased the book, or are thinking of doing so, I wanted to give you a brief, but detailed run-down of what this book can provide you. If you're a proud owner of the book, you may not be aware yet of all that it can do. An asterisk (*) denotes a worksheet with fillable fields.
4 worksheets/planning pages for goal setting*
3 different monthly calendars for the rest of 2010 and all of 2011: a month on 2 pages*, a month per page vertical*, a month per page horizontal.
2 different weekly calendars: both horizontal and vertical formats
Year at a Glance and Dates to Remember* pages
3 Daily To Do lists: 2 contain fillable fields
6 different meal planning worksheets: 4 of which contain fillable fields
Morning and Evening High Five Sheets that you can edit on the computer: click around for the blanks to fill in.
3 Weekly Cleaning Checklists*
4 Contact Forms*: including Sports, Medical, School, and other
2 Budget Worksheets
Accounts Payable Page*
5 Holiday Planning Pages

View this 15 page sample of *Organizing Life as MOM* for a little sneak peak.
For more details and testimonials, visit the sales page.
When ordering, please make sure that you use a valid email address. If your Paypal account is not linked to a valid email account, we won't be able to send you your download link.