FishMama's Picks for Homeschooling
We are a participant in the Amazon Services LLC Associates Program, an affiliate advertising program designed to provide a means for us to earn fees by linking to Amazon.com and affiliated sites. We participate in other affiliate programs as well. For more details, please see our disclosure policy.
This week I'm finishing my tenth year of formal homeschooling. I suppose some might say fifteen years since before my son was officially in kindergarten, I gave him a preschool experience at home.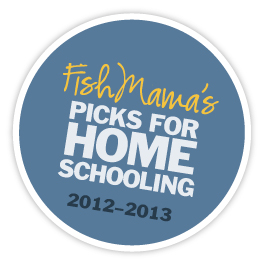 Really, all of life is learning.
But, yes, ten years of formal teaching. I think I get a pin for years of service, right?
The past six months have been peppered with some rich, rich experiences to give me that boost I need to keep going another fifteen years.
While I'm very ready for a break, I'm also excited about the next school year. Can you believe that my kids will be entering 10th, 7th, 5th, 3rd, 1st, and K-4?! Yeah, I can't either.
Over the past summers, I've shared some kind of homeschool-inspired series. In case you missed them, be sure to check out How We Do School and Getting Started in Homeschooling.
This summer is no different. Inspired by my homeschooling trips to Virginia and Long Beach last month, this summer I'll be posting a step-by-step look at the different subjects to teach, what tools to use, and how we make our choices. Ours might not be exactly right for you, but hopefully, they will inspire you to choose the best resources for your family, whether you homeschool or afterschool.
Consider this the anchor post, as I'll be linking all the future articles back here so you can keep up with them easily. And stay tuned for some giveaways thrown in. I'm really excited to share some great teaching tools with you!